Anyone who is familiar with us and our work will know how much importance we place on APIs, and how much value they bring to what we do. While Application Programming Interfaces (APIs) have transformed most other industries, here in wealth management they're still the exception, not the rule.
This is why we're on a mission to rebuild the infrastructure of investments and advice from the ground up, and in an API-first way – so that firms can build flexible, innovative propositions as quickly, easily and affordably as possible.
We're excited to announce, then, that we've pushed the button on our newest piece in the API investment puzzle: our JISA.
A JISA allows clients to save and invest up to £9,000 per year for children below the age of 18, with all interest, growth or income being exempt from Capital Gains Tax and/or Income Tax.
Our new functionality means advisers, DFMs and fintechs can launch a Stocks & Shares JISA more quickly and seamlessly than ever before – allowing firms to offer a fully regulated JISA at a fraction of the cost. Exciting stuff!
Building our children's future – the time is now
The government recently raised the tax-free JISA allowance from £4,368 to £9,000, making JISAs a more desirable and efficient way to save and invest for a child's future.
Over the past few years, financial education and child spending apps like Go Henry and Rooster Money have gathered momentum, and it seems we're witnessing a bit of a movement towards improving financial literacy for children. This is all great progress – but what about lowering the barriers to entry so that their parents can start saving sooner, in a way that's more affordable than ever before?
At Seccl, we're always looking for new ways to make the world of investing more accessible – and helping people from all walks of life to more easily invest for their children's future seems a good way to do just that.
Our API will support the fintechs of the future to launch innovative financial products aimed at young investors and their parents. It will also support advice firms to quickly launch JISA propositions on their existing platforms, meaning parents can view the whole family's portfolio in one place.
Take a look for yourself…
Our JISA API facilitates a simple three-step network request process: create a parent, create a child, create the account. This allows the end user to open an easy-to-use tax wrapper within minutes…
As you would expect, all of this functionality is also available through our off the shelf interfaces, too.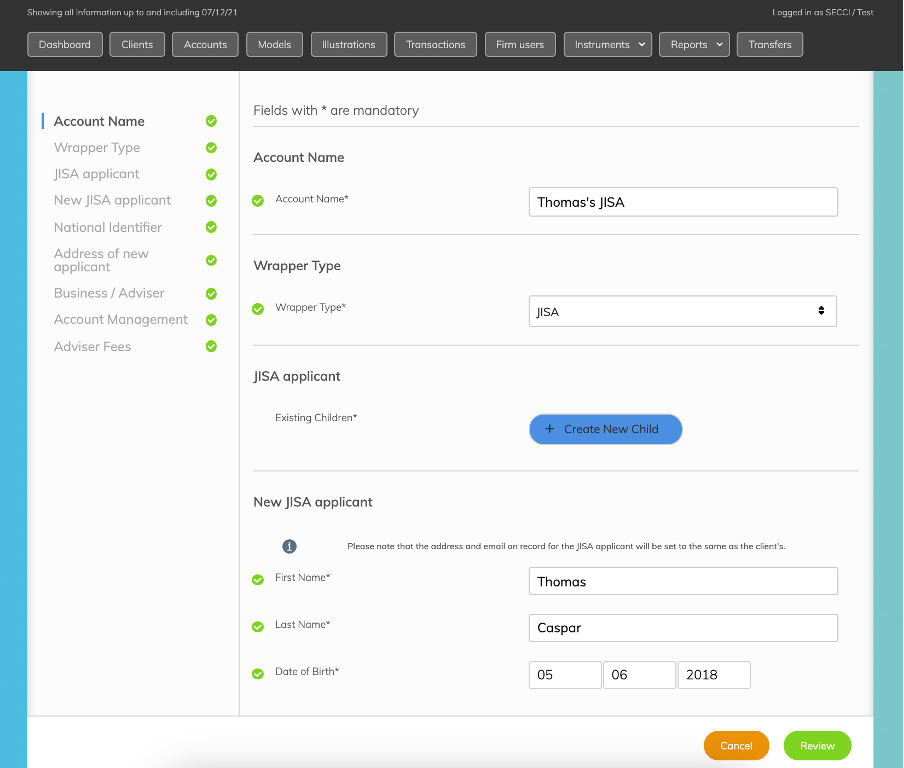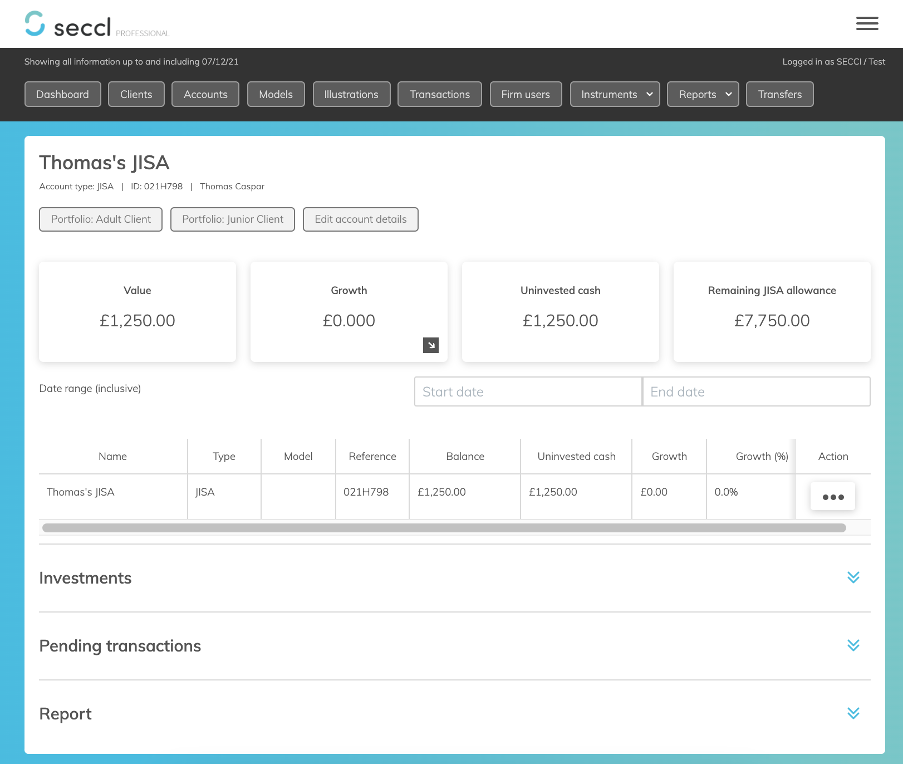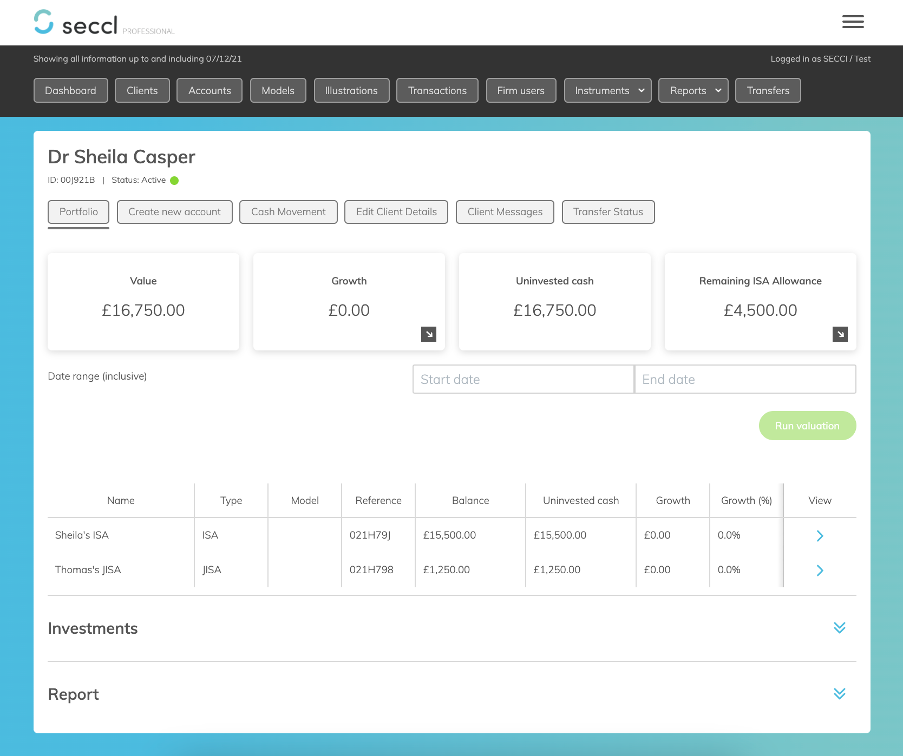 If you like what you see and you'd like to book your demo or find out about adding JISA to your platform, you can reach out to us here.
Holistic investments – a brighter future for today's young investors
According to Seccl's Co-CEO, Sam Handfield-Jones, "The introduction of our JISA API will now allow our firms to offer a broader, more holistic proposition to a family by including children's investments on a single platform at a potentially much lower cost."
And some of our firms are already putting the JISA functionality to good use. CIRCA5000 (formerly Tickr), an investment app focusing on investing in companies securing a better future, have integrated with our API to build a JISA offering to help improve the financial outlook for young people.
Matt Latham, Co-founder of CIRCA5000, shared: "Seccl's latest API has enabled us to offer a seamless JISA experience, allowing guardians to easily open and manage accounts alongside their other CIRCA5000 investments. This API-first approach to investment infrastructure has helped us rapidly break down barriers to entry – enabling our team to build and launch a JISA offering for our fast-growing user base in a fraction of the time."
P1 Investment Management, a platform operator using Seccl's user interfaces, have also launched support for JISAs. Here's what they had to say…
"JISAs are a staple in an advice firm's arsenal, but as with all of its technology, Seccl's stands out for its speed, flexibility and, of course, its absolute lack of paper. Creating a JISA on the P1 Platform takes seconds – and doesn't involve endless back-and-forth with platform admin teams."
Now, parents can view their children's portfolios alongside their other investment accounts, enabling a much slicker intergenerational planning experience.
If you'd like to book your demo or find out more about our JISA – or to enquire about operating your own platform – get in touch here.
---