A few weeks ago, a group of us here at Seccl got together for a one-day 'no-code' hackathon, dedicated to exploring some of the easy-to-use bits of kit that are bringing software development into mainstream reach.
The 'no-code' movement (and its slightly more sophisticated 'low-code' cousin) refers to a set of tools designed to allow non-engineers to develop apps, websites and software products without the use of much, if any, code.
It's an area that's growing fast. In 2019, Forrester predicted the low-code market would hit an annual growth rate of 40 percent, with forecast spending of $21.2 billion by 2022.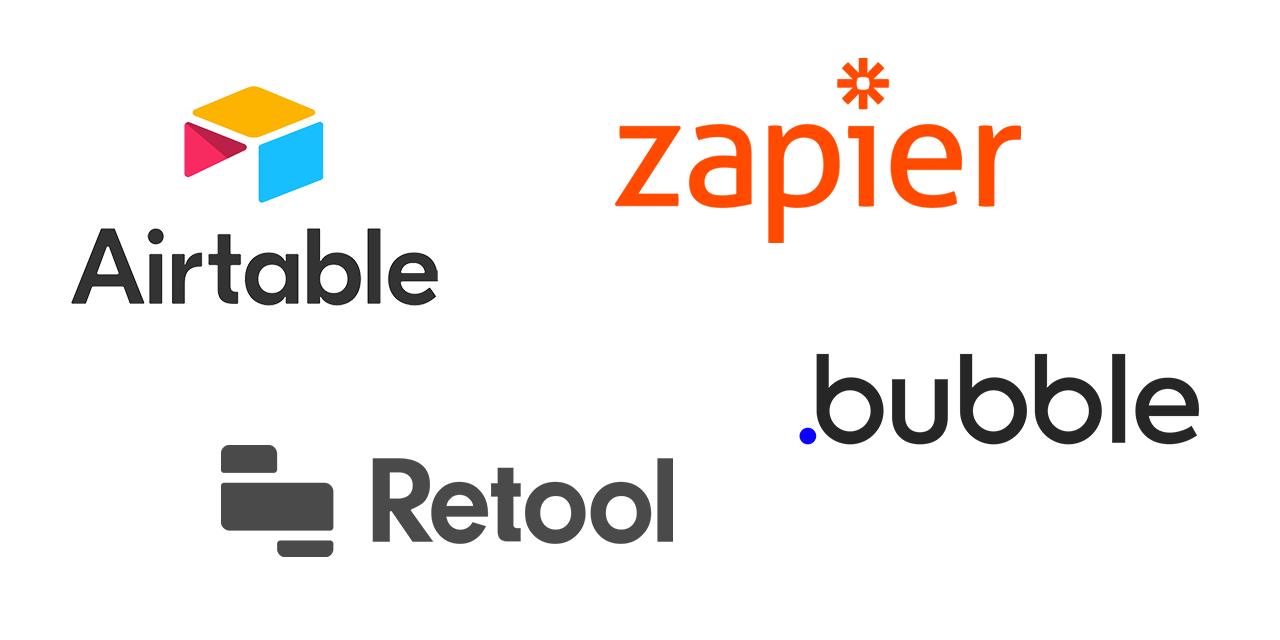 And that was before Covid-19. According to KPMG, the number of executives who identified it as their most important area of automation investment has nearly tripled since the Coronavirus outbreak, while Gartner estimates that half of medium to large companies will use a low-code platform by 2023.
It's not hard to see why. By providing sometimes quite complex workflows and software configurations off-the-shelf, and making it all accessible via easy-to-use, drag-and-drop interfaces, it's theoretically possible for someone to build a powerful product, without knowing any code whatsoever.
What's the big deal?
We think the no/low-code market is enormously exciting, for a few reasons.
It has the potential to transform how companies design and build products, by enabling super quick and cheap experimentation, without the need for intensive engineering work.

It promises to supercharge engineering teams, by allowing them to focus more of their cognitive energy on the difficult stuff, and leaving the routine, straightforward or well-understood stuff to no/low-code tools.

And it could also help to promote a greater diversity of thought, by bringing non-engineers into the product development process, and empowering an entire organisation to innovate.
In our own market, we were struck by the opportunity that no/low-code tools could have in further reducing the barriers to investing or financial advice. We're already powering disruptive, ambitious fintechs to build innovative new propositions directly on top of our API, but what if we could help them get live without a single engineer, too?
In turn, we think that could help to raise the baseline of innovation within the sector. Just think, if teams could quickly and easily develop an investment app using pre-built, no-code templates, then they'd be able to spend the considerable time saved on developing even more compelling, unique and tightly focused propositions: a win-win.
Anyway, rest assured we're quite excited by the theory – but thought we'd have a go at putting it into practice. So 15 people from across our Product, Customer, Marketing, Operations and Bizops teams got together to have a crack.
After a quick brief on a few options of tools we could use, we brainstormed ideas that we could work on, organised ourselves into teams, then spent a full working day exploring those tools and trying to build our ideas.
So, how did it go?
Well, we built a pretty diverse array of stuff! Across the team, and in just one day, we'd built working prototypes for a financial planning chatbot, a client dashboard, a tool for showing unused ISA allowances, a pension workflow…and more. Our teams have given a short intro to their proofs of concept below, so check them out.
And if you're looking to try some no-code experiments of your own, here's a quick list of the tools we used…
Ronak & James Holmes: We created a prototype of a D2C investment app, built using Bubble, on top of Seccl's APIs.
Amy Lobé: I built a chatbot for financial advice using Joonbot. I wanted to try and streamline some cookie-cutter experiences that everyone getting advice goes through.
Adnan: I made a tool which allows advisers to see which of their clients have remaining unused ISA subscription allowances, by connecting Retool to the Seccl API.
James Bartlett: I made an adviser prototype using Bubble and Airtable. The aim was to provide users with actionable client insights, based on the data we hold on the Seccl platform.
JJ & Joe: We built the skeleton of a custody dashboard using Bubble, with a focus on customisation and a clear highlighting of key actions.
Annabel, Dan, Rachel, Stu & Yordan: Using the integration and automation tool Zapier, we connected Airtable, Typeform and Google Drive to create a prototype for an automated client onboarding flow.
Ronak: I also developed a classifier that builds a profile of which types of transactions are the highest value, based on past data, using Obviously.ai. It's just a proof of concept, but how artificial intelligence (AI) no-code tools can help to provide valuable customer and operational insight.