This morning, I had the pleasure of chatting with Debbie Dry and two of her advice clients during a 45-minute deep-dive into the hybrid advice model.
Debbie is Head of Business Development at JustFA, an advice and investment platform where financial advisers can serve their clients using an affordable, hybrid model of automated and online financial advice, underpinned by Seccl's technology.
Debbie and I were also joined by two fantastic panelists – Scott Atkinson, Managing Director at GPFM, and Dominic McLoughney, Director at Becketts – both of whom are currently developing a hybrid solution using the JustFA platform.
I think we were all grateful to be in the sanctity of our homes (with fans blowing in the background!) given the extreme heatwave here in the UK – but that didn't stop us delving into the topic at hand.
The result was an insightful 45-minute chat with some thought-provoking questions around the cost of hybrid advice for platforms, the efficiency gains this model brings, and the level of technical expertise required to run it (spoiler alert – you don't need much!).
If you missed the session, you can catch up here. And if you have any follow-up questions, please feel free to drop me an email.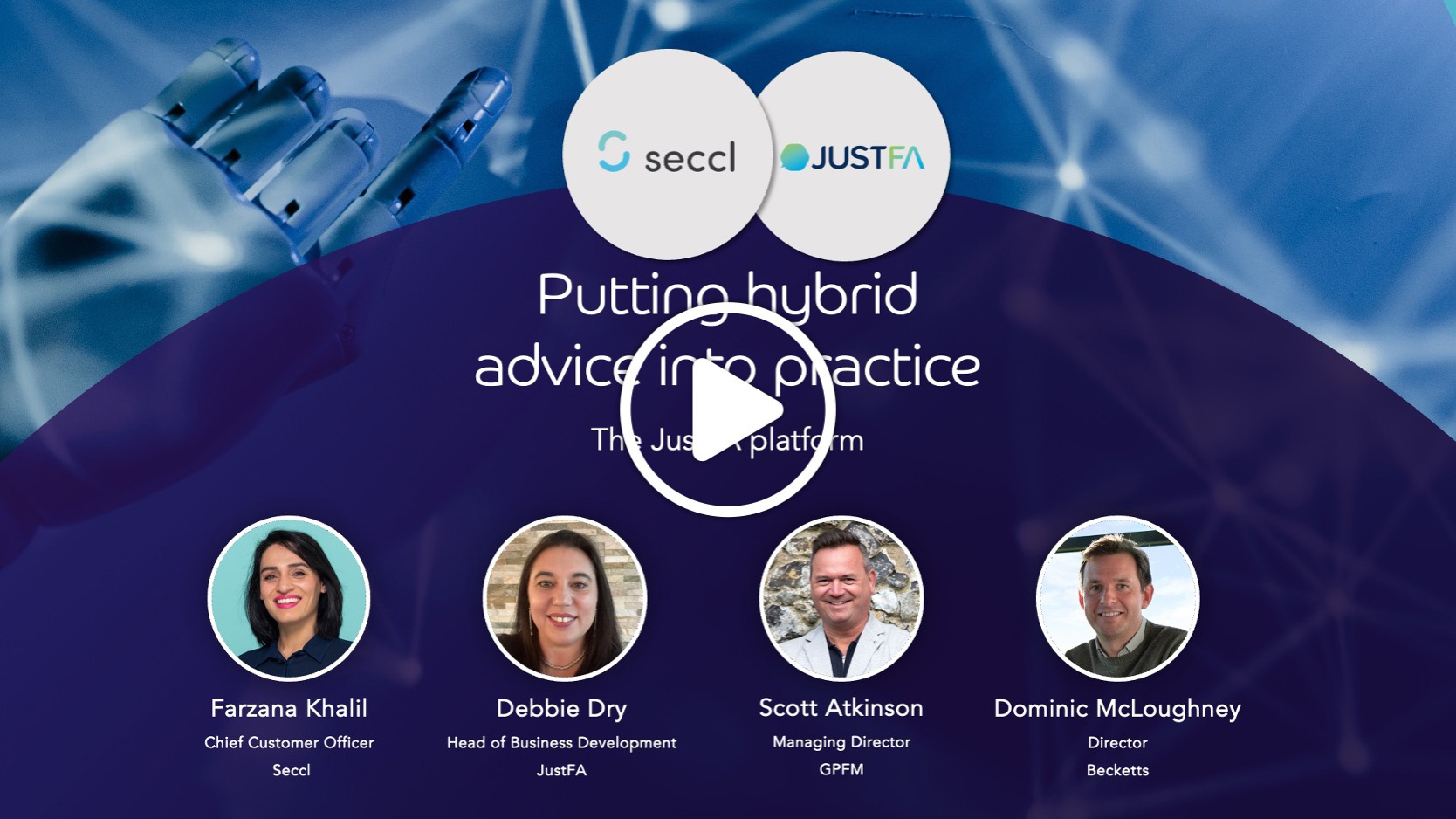 "We need to be able to say to the grandchildren of our pension clients 'Yes, we can work with you!'"
In this webinar, we look in detail at the efficiency gains a hybrid approach can bring to firms, as well as the benefits it offers to onboarding clients – digital signatures, a slick user journey, a human at the end of a video call if they get stuck, more affordable advice, and more.
But first, why consider a hybrid advice model in the first place?
"As a firm, we know we need to capture people at the different stages of financial planning – not just looking to retirement, but also at the beginning or middle or their wealth accumulation journey," Scott shares. "To do that efficiently, we need to embrace technology. We need to be able to say to the grandchildren of our pension clients, 'Yes, we can work with you!'"
According to Scott, Managing Director at GPFM (a Hertfordshire-based financial planning firm), an efficient digital journey where the client can still talk to a human is the ultimate solution.
"Investing money through just technology is bound to bring some anxiety, but if you have the ability to talk to someone, a financial adviser, about your investment risk level and what you're trying to do, I think that's a gamechanger. As a business, without it, all our assets are going to go somewhere else in the future."
Dominic, Director at Beckets, a family-run financial-planning-led wealth management firm, adds, "For us, what this means is greater access for more people to high-quality advice – and that's got to be the key. The goal is closing the advice gap, and that's where hybrid really sits."
JustFA: "More than a platform"

The panelists then go on to discuss the challenges solved by the hybrid advice model, as well as the efficiency gains it can offer – such as enabling advisers to take on up to five times as many clients.
Debbie stresses that that JustFA is an interactive tool – a portal for advisery firms and their clients – and not "just a platform." However, she recognises that the hybrid model might not be right for every firm. or indeed every client. Customers with more complex needs, or who don't want to use technology, will probably still need a more traditional delivery of advice.
"Ultimately, it's going to fit around you rather than the other way round. Of course, it's a big change – there's an investment of time, effort and learning involved with embracing the hybrid model. But if you can give it the time it deserves, it's really going to deliver."
For the full talk, and for advice from each of our panelists on moving to a hybrid model, you can watch the webinar back here. To find out more about JustFA, head to https://justfa.uk/.