Disclaimer: this blog, and the group it details, focuses on the investing habits of those who've been socialised as women, compared with men, and therefore the language reflects that.
We recognise that there are more than two genders, and that the non-binary and trans communities face a great deal of income inequality and other serious financial barriers. We feel it is important for women to share the unique obstacles they faced, but The 3.22 Trillion club is for everyone – however they identify.
Inspired by key themes from our recent #BreaktheBias International Women's Day webinar, in which an inspiring group of leaders came together to discuss the gender investing gap, Fintech Growth Lead Mary Agbesanwa decided to arrange a dinner for the women of Seccl last week – with an interesting twist.
While we enjoyed delicious food, cocktails and great company, the topic of the night was one thing, and one thing only. Money.
The idea came from Ruth Handcock, Chair of Seccl and CEO of Octopus Investments, who suggested the "women's finance dinner" during the IWD event, as a way to open up conversations around women's wealth, and to address the reality that women in the UK invest at a much lower rate than men.
What's the problem?
Recent research led by YouGov Omnibus found that over half (52%) of UK women have never owned any investments, compared to just 37% of men. Despite this, study after study suggests that when it comes to managing investments, women tend to out-perform men – earning around 1% better returns.
So, why the gap? When you look at the conversations around investing, both in the financial sector and mainstream media, it's not hard to see why women keep over 70% of their portfolios in cash, rather than choosing to invest.
A shocking 73% of asset managers state that their organisation's investments products are primarily aimed at men, while 73% of financial articles targeted at men focus on growing their wealth, and 90% of articles aimed at women focus on spending less.
With the gender pay gap currently at 15.4% (for all employees; 7% for full-time employees), and women between 21 and 53 holding half the value of investments as their male counterparts, it starts to feel like we're drawing a few short straws.
"Let's get rich" – the $3.22 Trillion Club
There are many complex reasons for the gender investing app – just as there are for the gender pay gap. There are broader, more systemic issues at play for sure, such as the "motherhood penalty" (a term that describes the career problems women face after having a child) and the lack of financial education aimed at women and girls.
However, it's also true that many women don't feel comfortable even talking about money, and over half of all UK adults think that talking about money is a greater taboo than speaking about their intimate relationships, religion or politics.
So, to practice what we preach, a group of Secclers who identify as women have come together to form the $3.22 Trillion Club - a nod to the trillions of extra assets that would be under management if women invested at the same rate as men.
Of course, the aim of the group isn't to "get rich" (that was just a pithy toast!) but for women to have more financial equality with men. Every woman deserves to have financial autonomy and independence, as well as the comfort and security that comes with it. And if men can talk openly about growing their wealth, why can't we?
What was on the menu?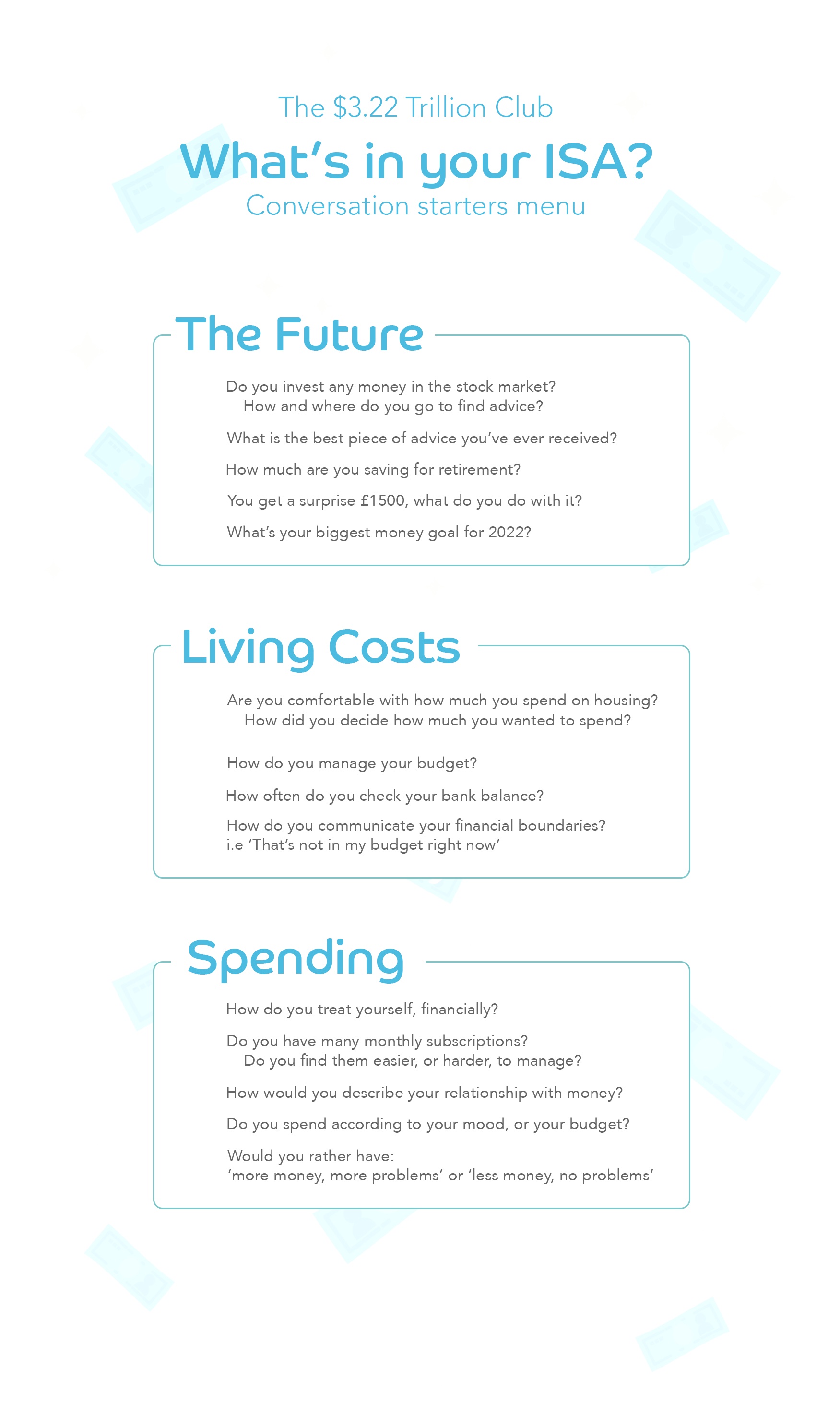 Thanks to our brilliant Senior Product Designer, Amy Lobé, we started the evening with a "menu" of different talking points.
We discussed the "future" of our money, including how and where we invest in the stock market, how much we're saving for retirement and how we're keeping track of our pensions (shoutout to apps like PensionBee and Penfold!), as well as our financial goals for 2022 and beyond. Some of us are saving for home improvements, holidays or big-ticket life events, while others are keen to resolve their overspending problems or want to become the primary earner in their household.
Another key topic of conversation was living costs – especially given the recent rise in just about everything. There were some extremely candid conversations about salaries and rent and mortgage costs, as well as budgeting and sticking to "financial boundaries" I.e., how do you communicate that something isn't within your budget?
Finally, we tackled spending. We talked monthly subscriptions (and found that most of us have way too many! 🙈) – as well as financial self-care and emotional spending.
We debunked the myth of "more money more problems" and quickly concluded that, overall, poor financial health makes life a lot more difficult.
There are so many great investing apps out there, many of whom (like Chip, Tillit and Circa5000) we're happy to work with – not to mention companies that are committed to improving women's financial education (like Your Juno), but it's worth stating that this is only helpful if you have enough money to begin with.
So, how did it go?
The dinner took place over a few short hours, but it was amazing what we were able to cover in that time. I came away feeling empowered, informed and inspired.
Coming from a lower-income background with zero financial education or understanding, saving and investing are fairly new concepts to me – so it was great to have such an open conversation about money. I also learned a lot more about which funds to invest in using my Seccl Invest account, and why volatility in the short-term is no bad thing.
Maddie, PR and Comms Manager, shared about the evening:
"It was incredible. There's no other way to describe it. The sheer level of shared experiences uncovered, and support offered, was so empowering. I quickly realised that this might be just how we start to solve the problem - women and girls from all walks of life coming together to take control and have real, frank discussions about money.
"Not only have I come away with my next top three funds to invest in, but I've also gained the exciting belief that if we as women support each other in matters of money, our success will have no limits."
Next on the group agenda is to set financial goals and targets, then check in with each other to see how we're getting on. We're decided the $3.22 Trillion Club dinner should be a regular thing – so watch this space for more updates.