Whether you're a financial advice investment management firm looking to launch and operate a platform of your own, or a technology firm on a mission to build the innovative investment proposition of the future, there's plenty to consider pre-launch.
But before you can even think about taking on your first client, you'll need to get your regulatory house in order by making sure you have the appropriate Financial Conduct Authority (FCA) permissions to operate.
We realise it can be something of a minefield. What permissions will you need? Is it better to be Directly Authorised (DA) by the FCA, or become an Appointed Representative (AR) of a Principal Firm? If applying for new permissions, how can you craft your best submission?
That's where our new guide can help…
In it, we'll talk you through the 'what' and 'how' of investment platform permissions. We'll cover off the permissions you're likely to need depending on the size and scope of your business and explore the pros and cons of the two routes to regulation (applying for new or varied permissions as a Directly Authorised firm, or becoming an AR of a Principal Firm that already holds them).
And, if you opt for Direct Authorisation, we'll give you some top tips for making your application a successful one. As many as 20% of applications for new or varied permissions are rejected by the FCA, so it's important to get your ducks in a row and build your strongest possible submission to avoid any costly delays.
Of course, the exact permissions you'll need will depend on many different things – and there is no 'one size fits all' approach. However, as this guide points out, there are some universal points of reference that we think will be useful for you to know before you take that first step in your journey.
So grab your copy now – and find out how to put your best foot forward.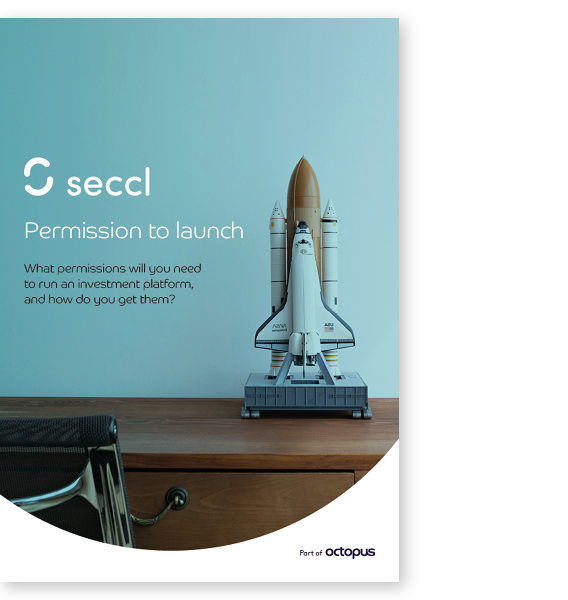 Who is the guide for?
This guide is for you if you're grappling with the compliance and regulatory considerations of launching a new investment platform – whether an existing financial advice business or DFM hoping to run a platform of your own, or a fintech building a new investment or advice proposition.
What does the guide cover?
With expert advice from Seccl's Head of Compliance, Thomasina McGuigan, this guide will get into the nuts and bolts of investment platform permissions, covering key questions and themes such as…
What permissions will you need? Do you need permission to hold client money and assets yourself, or can you appoint a third party to provide the custody?

Directly Authorised vs Appointed Representative – which is right for your firm?

If you decide to become an Appointed Rep, which Principal Firms might you want to consider?

If you decide to become Directly Authorised, how can you make the most of your application?
"It's important to spend time researching your options and doing your due diligence, so you make the right choice for your firm." – Thomasina McGuigan, Seccl's Head of Compliance.
To make sure you know all the facts before you jump in with both feet, download your copy of "Permission to launch" now…
You can also tune into the upcoming talk with Seccl's Head of Compliance, Thomasina McGuigan, on 10am Tuesday 25th January, where we'll talk about getting permissions in more detail. Register your place here.
---