"Find work that matters to you and the world." That's the call to action from Escape the City – the online community that's on a mission to help 1 million people to quit the rat race and find a profession with purpose.
It's a lofty aim, but one that more and more of us seem to aspire to. As they put it, "back in 2010 escaping was a pretty fringe idea. Today, thanks to advances in technology and shifts in attitudes, it's becoming increasingly mainstream."
But while it sounds great in theory, where is this holy grail of employment to be found, exactly? Wouldn't it be helpful if there was a definitive list of mission-driven companies, which didn't live or die by profit alone, but instead prioritised people and purpose, too?
Well, the annual Escape 100 does just that…and we're delighted to announce that Seccl has made the list.
Top mission-led organisations to work for in 2021 announced
An annual campaign to recognise organisations that care about their employees and the planet, the Escape 100 is designed to showcase the top organisations to work for in 2021, based on factors like innovation, impact, environmental concern and, most importantly, employee engagement.
The list covers all sectors, sizes and locations – and follows nominations from a staggering 8,000 organisations, all of which were assessed against six key criteria and reviewed by employees.
"We wanted to celebrate extraordinary businesses in an extraordinary time, and the diversity of organisations on the list this year reflects that", said Dom Jackman, founder of Escape the City.
"But it's not just for recognition's sake. The job market is still dealing with the impact of the pandemic, and jobseekers will have to work harder than ever to find opportunities that align with their values. This list has been designed to rank organisations on the metrics that really matter.
"What are they doing to save our planet? How do they look after their people? What problems are they solving? These are all things that jobseekers want to know in 2021, and we hope this list helps talented people discover interesting opportunities and organisations that they might not have found otherwise."
We're delighted, then, that Seccl has made it to the list – ranking 71st overall, and excelling in the 'people' and 'innovation' categories in particular.
Putting people first
Our team has pretty much doubled since lockdown began last year. Hiring such a large number of people on a fully remote basis would put a strain on any company – and while it certainly hasn't been without its challenges, our team has taken it in their stride.
It's testament to the thoughtful, curious and kind people who work here; who together have created a singularly welcoming, inclusive and supportive culture. We're especially proud to see that culture recognised in some fantastic Escape 100 employee scores.
90% of our team kindly took the time to leave a review of the business – giving us an average score of 9.8 / 10. In the words of Escape the City, it's 'a truly remarkable score', which gives us the status of 'exceptional for employees'.
As Jake Pitman, Escape the City's Chief Employee Happiness Officer, puts it…
"Hugo and David founded Seccl with a vision in which any saver can access high-quality financial advice on-demand, whenever and however they want it, thanks to their technology. 39 employees gave it an average score of 9.8 / 10 so take it from them that it's a great place to work."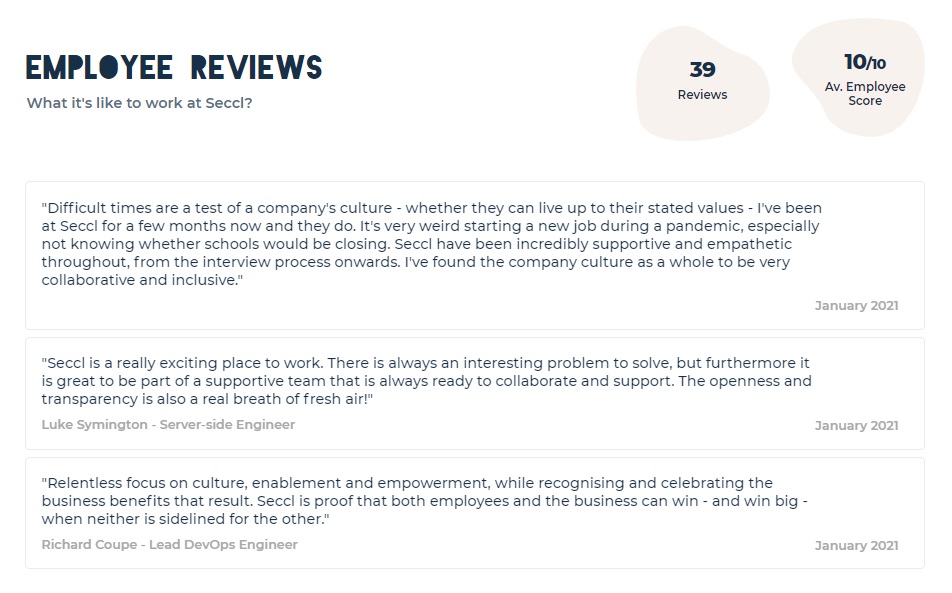 Interested in joining us?
If you're thinking of taking the leap into your next role and are looking for a company that puts its people first, then do reach out; we're open to hearing from all passionate and curious people who are keen for a fast-paced, learning-focused environment.
We're a technology company that works in financial services… but as a team, we're a real mix of people. There are people with finance experience, people with technology experience, a handful with both, and another handful with neither. In fact, some of the most impactful people come without any direct experience in our field armed only with fresh ideas and a positive mindset.
First and foremost, we look for great energy, a desire to problem-solve, a comfort with ambiguity, and an ability to multitask. If that's you, then check out our open roles.
And if there aren't any that look quite right, get in touch all the same – we're always eager to speak to bright, enthusiastic people looking to find work that matters to them and the world…
---