Last year, we ran an internal Diversity and Inclusion Survey to try and gauge how diverse and inclusive we were as an organisation, and identify what we could be doing better.
We decided to publish these results in a bid to be more transparent and encourage others to do the same. We know that financial services needs to change to reflect both the wider world and the complexities of the industry, and we want to take the lead on that – partly because we know diversity leads to more innovation, and partly because we know it's the right thing to do. And now, almost one year later, we're following up with a new survey to see how we got on.
We'll get to the results in a minute, but for now, just a quick refresher on why we're doing this…
Diversity means something different to everyone – and it's become a bit of a buzzword in the corporate world. We don't want to subscribe to tokenism or ideas about what diversity "should" look like. But we do want to work towards becoming more reflective of the world around us, while also nurturing a culture that celebrates difference and remains inclusive for everyone.
What do the numbers show?
Again, we wanted to benchmark where we are now in two ways – the same as we did last year – so we can easily track our progress.
Firstly, we conducted an anonymous survey which asked our team about their gender, sexual orientation, education, ethnicity and socio-economic background. This year, we also surveyed how many of our employees identify as neurodivergent or have a disability or long-term health condition.
We achieved a 75% completion rate, which we think is pretty great for a company of nearly 100, and gives us a clear picture of where we are at the moment.
We asked everyone to score how diverse and inclusive an organisation they felt Seccl to be out of 10. Here are this year's scores…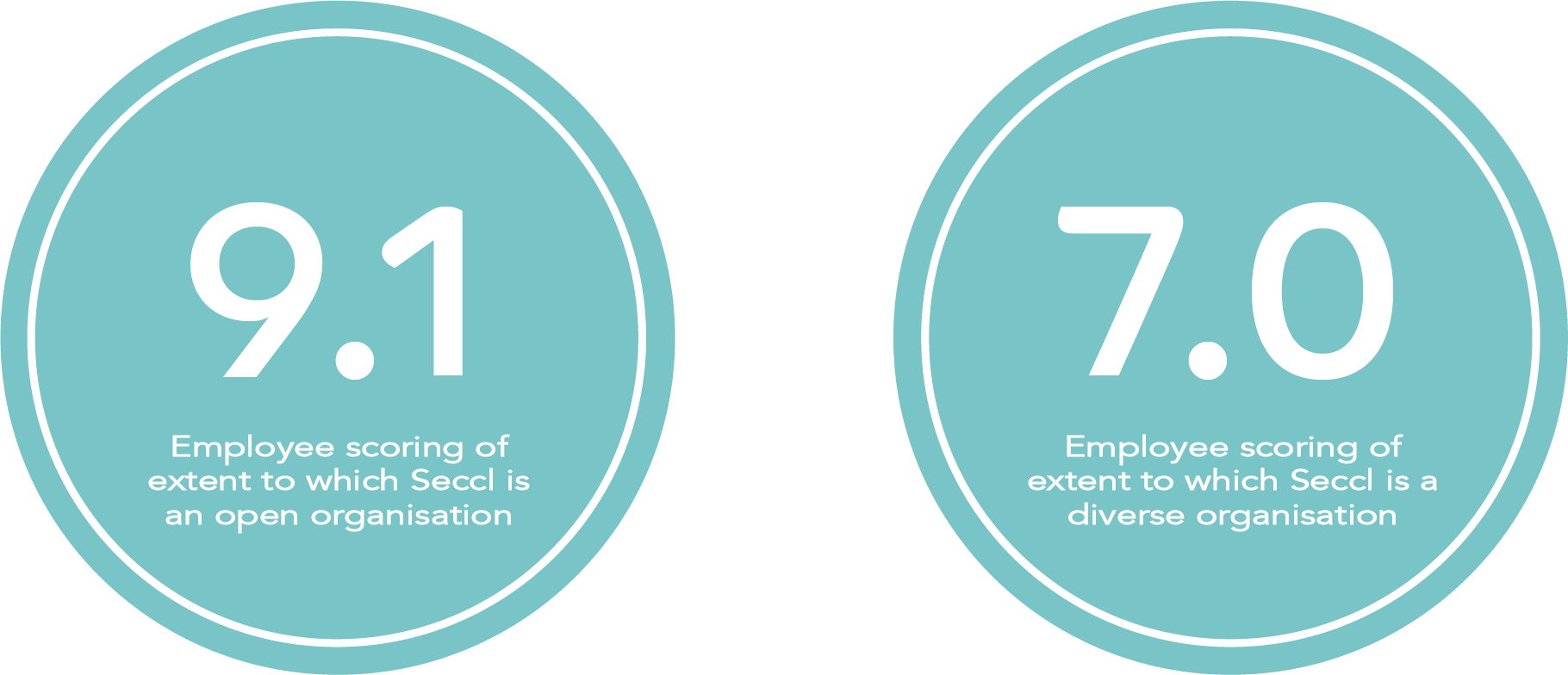 As a reminder, last year, employees scored us 9.2 out of 10 for being an open and inclusive environment, and 5.7 out of 10 for being a diverse organisation. In 2021, we also set ourselves the target last to:
Maintain an internal "inclusion score" of 9+
Improve our internal "diversity score" to 7+
And we achieved both! Promising stuff.
As you will see, we've made some real progress in some areas – even though we still have work to do. We're glad that 9.1 out of 10 employees feel that Seccl provides an open and inclusive environment, and we plan to continue these same efforts into 2022 and beyond to keep those numbers up!
The survey at a glance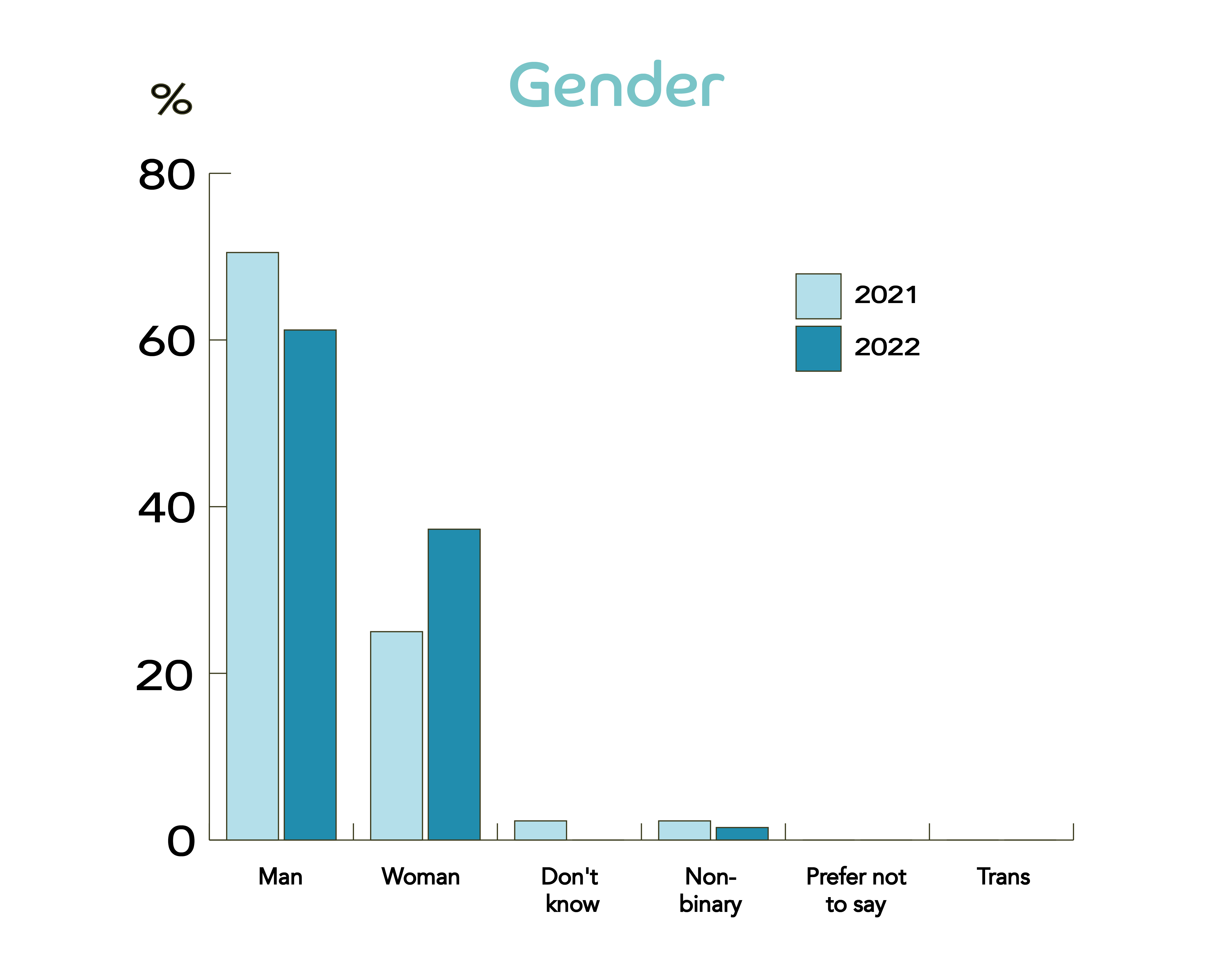 First up, as a team, we found that we're getting younger. Last year, 45% of us were 21-30. This year, it's 55.2%.
We still have a strong male bias (61%, down from 70%), but there are 12% more women, non-binary and trans people in the company than last year – which feels like a positive shift.
Making strides – sexuality and neurodivergence 🏳️‍🌈
Perhaps the most drastic change in this year's survey, is that in 2021, only 4.5% of us identified as gay, lesbian, bisexual or asexual. Now it is over 15% – which is higher than the national average.
We're glad that, not only are we becoming more diverse in this area, but that people feel comfortable enough at Seccl to bring their authentic selves to work. This is testament to the culture that everyone at Seccl is helping to create.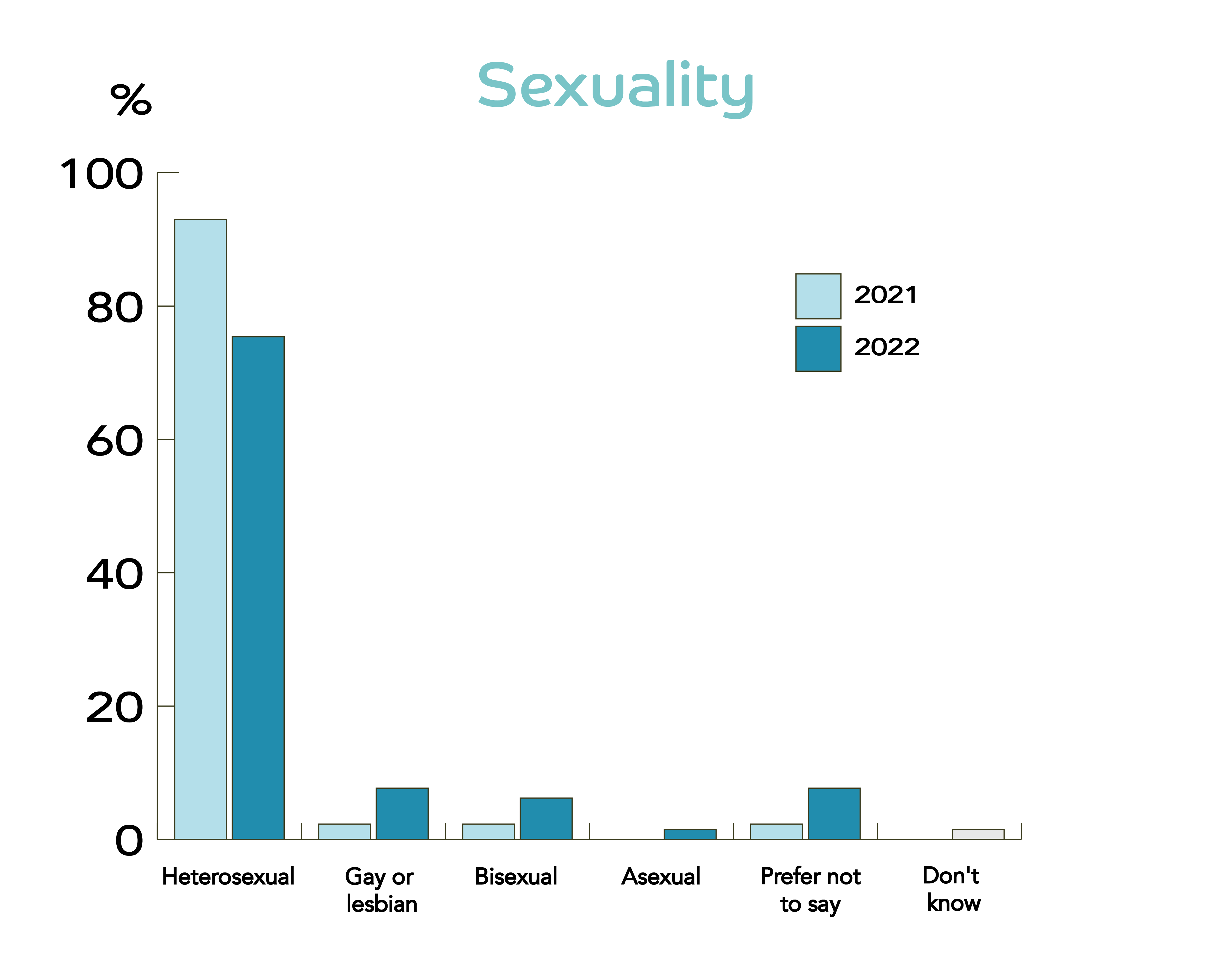 We didn't survey this in 2021, but this year we found that almost 20% of people at Seccl identify as neurodiverse. We were surprised that this was 15% higher than the national average.
We're proud of this figure, as we think it's another good example of how we're working towards one of our core missions: creating an environment where people feel free to be themselves.
Just last week, our current Co-CEO Sam Handfield-Jones (who has ADHD) contributed to an article for Headspring by Financial Times and IE Business School about the benefits of building a neurodiverse workplace:
"Diversity of every kind needs to be encouraged in the workplace. If everyone looks the same, has the same experiences or thinks the same, you carry on doing the same things. In a fast-changing world, neurodiversity offers businesses critical skills to stay competitive, evolve and adapt."
The survey also revealed that 20% of our workforce have a long-term health condition, while 1.5% identify as disabled.
Room to improve – ethnic diversity and education
We're still not very internationally diverse. 92% of us are British – similar to last year. We're not very ethnically diverse, either. 82% of Secclers describe themselves as white. We are roughly 2% more ethnically diverse than last year.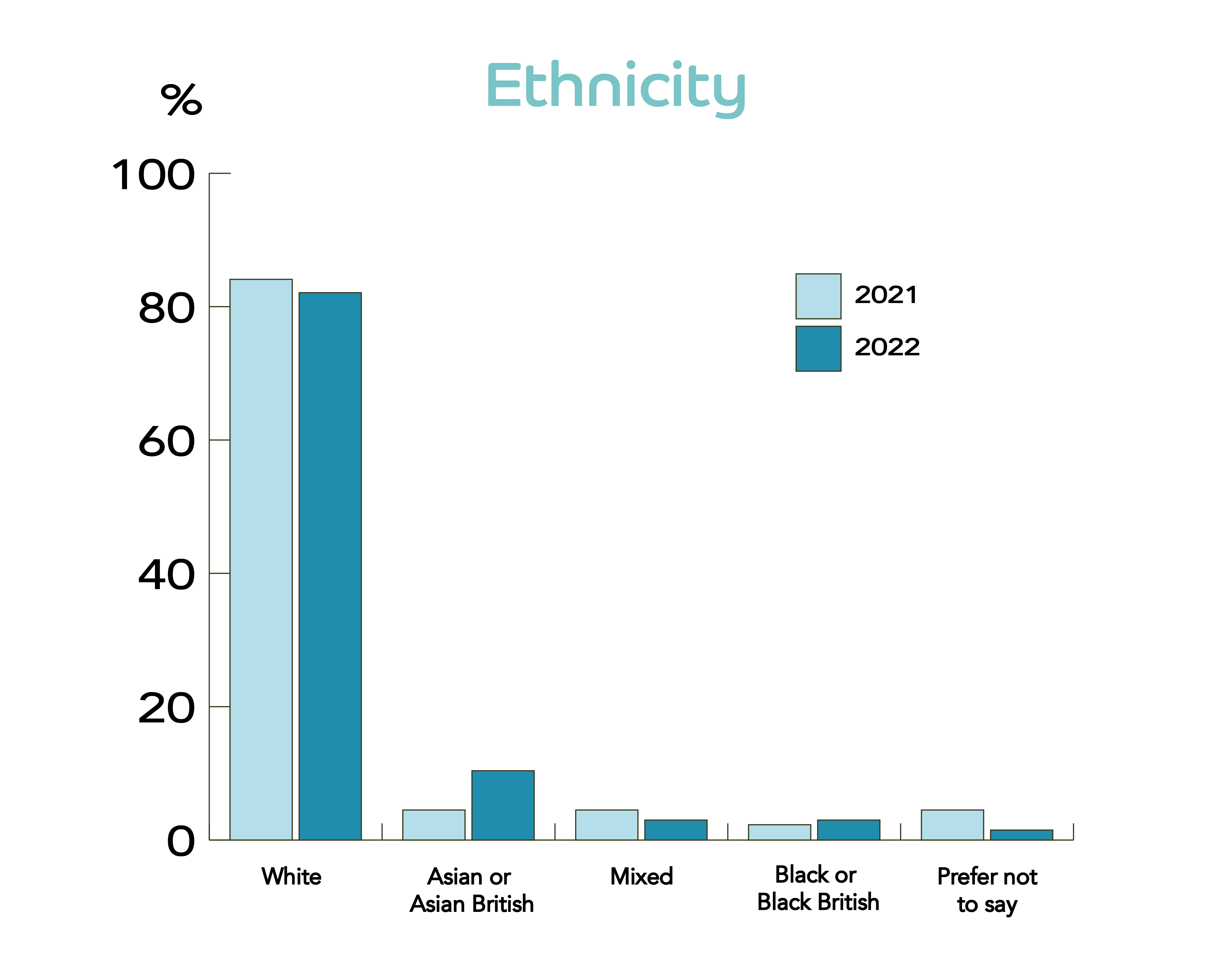 In terms of educational background, 80% of Secclers have a BA or an MA. Only 6% of us are school leavers – similar to last year.
31% of us describe ourselves as coming from low socio-economic backgrounds, up from 25% last year. 61% feel they have benefited from socio-economic privilege.
What happens next
We're still in the process of gathering ideas and initiatives towards our diversity drive this year, and we'll be doing things slightly differently by running an internal diversity and inclusion group to include as many voices as possible in the discussion.
We have already set to work on some of our objectives from last year: such as finalising a shared parental leave policy, publishing more diverse content to showcase what we're doing to promote inclusivity at Seccl, and removing "culture fit" from our recruitment processes.
We still have a lot of work to do in terms of becoming more ethnically diverse, achieving more of a gender balance and recruiting more people with disabilities – to name a few. And we believe we're up to the task.
However, we know that it's a marathon, not a sprint, and that achieving and maintaining diversity and inclusion at Seccl is an ongoing task, and one that can be complex and ever-changing. Measuring our results annually is a great way to check on how we're doing, but our commitment to the cause is a year-round effort, and what our employees think and feel is ultimately the best indicator of progress.
We'll be sharing more in the coming weeks and months about our internal diversity and inclusion efforts, and the actions we're taking. Stay tuned for updates!
We want to bring together people, ideas and industries that will change the world for the better. If you're interested in working for Seccl, check out our careers page or send your CV to people@seccl.tech