Introduction
We're a business on a mission.
To rebuild the infrastructure of investments and advice.
We provide technology that empowers forward-thinking advisers, wealth managers and discretionary investment managers to build the efficient businesses of the future.
Powered by Seccl, they can improve their service, boost their efficiency and become more valuable — by operating their own platform.
We recently became part of the Octopus Group, an innovative group of companies that's on a mission to breathe new life into financial services and energy.
Founded in 2000, Octopus now manages more than £10bn, with more than a million customers across all group companies.
Our unique approach
We help you take control
We want to empower a new generation of firms of all sizes to take greater control of their business – by operating their own platform.
The decision to build and operate a platform has traditionally been so costly or disruptive as to make it the exclusive option of large firms or national networks.
But with Seccl's powerful custody, settlement and trading infrastructure, along with its intuitive user interfaces, it's never been easier.
Now firms no longer have to settle for 'white labelling' an existing platform offering. Instead, theycan own and shape the customer journey from start to finish – offering better service and becoming a more valuable business in the process.
We're built to integrate
Our 'API first' philosophy means that everything we build is designed for deep, two-way integrations – making it easier to plug in to other tools and services that our clients may use.
We're built for change
Seccl is built on a simple principle. We know that change is constant – and so we make sure that our technology is immune to it.
Traditionally, platforms introduce new features, functionality and integrations by altering their core code base. Not only is this slow and painful – it also makes them inherently inflexible, as they're forced to undo all their hard work if circumstances change.
Instead, we've chosen to go back to first principles. Our core technology focuses on the essentials that every platform needs to do: to move money, to trade stock, and to do a combination of the two.
All additional functionality and integrations are then built as modules that plug into the core. This means that we can easily adapt to changing requirements, regulations or tax rules, without having to change the underlying code that powers our service.
With no legacy to manage, maintain or retrofit – and with one lean, clean code base, supported by a serverless, cloud-based systems architecture – we're fast, flexible, scalable and cost-effective.
We're built for flexibility
But it's not just our architecture that's designed for change. Our functionality has also been built to anticipate the shifting needs of our clients, giving them the flexibility to build their business as they wish.
For example, we're the only platform technology provider in the market to allow firms to manage advised and direct or execution only clients on a single platform.
Advisers can switch individual clients from D2C to advised – or even choose to keep some of a client's accounts execution only and the rest advised.
We're fast and robust
Our fast, flexible and efficient structure means that firms of all sizes can shape the product development roadmap and request new features or functionality – to an extent that simply wouldn't be possible with larger, more traditional software providers.
But our speed and agility comes with robustness and longevity, too. In 2019, Seccl was acquired by the Octopus Group – giving us the firepower to achieve our mission.
Organisational overview
Group structure
Seccl is part of the Octopus Group.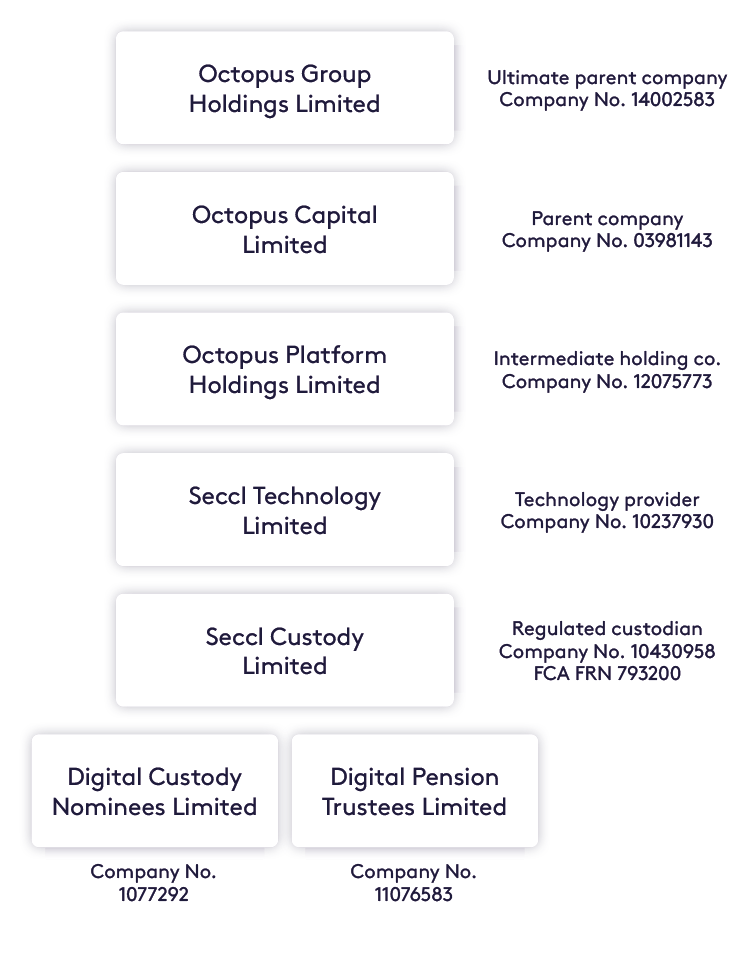 Seccl is part of the Octopus Group. Founded in 2000, Octopus is one of the UK's fastest-growing companies, operating in two sectors – financial services and energy.
Today the Octopus Group has over 1.5 million customers across its financial services and energy supply operations, and manages approximately £10.1bn in assets (March 2021).
Octopus Capital is the ultimate parent company of the Octopus Group. Octopus Platform Holdings is a wholly-owned subsidiary. Both companies are registered at 33 Holborn, London, EC1N 2HT.
Seccl Technology Limited – a subsidiary of Octopus Platform Holdings – owns and operates bespoke technology for advisers, wealth managers and DFMs.
Seccl Custody Limited – a wholly-owned subsidiary of Seccl Technology Limited – is a firm authorised and regulated by the FCA to provide custody services.
It has two wholly-owned subsidiaries: Digital Custody Nominees Limited, a non-trading nominee company; and Digital Pension Trustees Limited, a non-trading company set up to provide a Trustee for Seccl's potential future pension offering.
Seccl Technology Limited and its subsidiaries are all registered at 20 Manvers Street, Bath, BA1 1JW.
Octopus: a snapshot
Governance structure
Executive team
David Harvey, Co-head
David founded Seccl alongside Hugo, and leads the business with Sam. He has an extensive knowledge of stockbroking, trading, settlement and custody administration systems.
His experiences with existing software models, which are typically between 15 and 30 years old, led him to conclude that he could dramatically improve upon current solutions (none of which were built for the current market place) through innovative architecture, APIs and cloud hosting.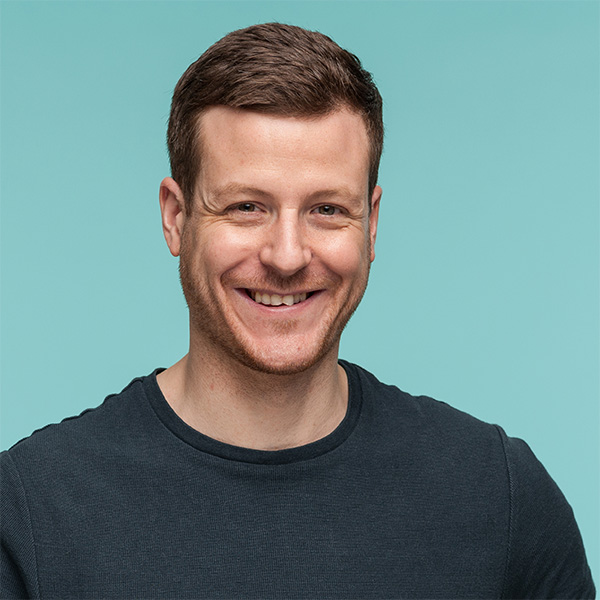 Sam Handfield-Jones, Co-head
Sam leads Seccl Technology alongside David. Prior to this he launched and ran Octopus Cash, a marketplace for savers to find better rates, and Octopus Choice, a property lending platform.
He is passionate about fintech and the role that technology can play in opening access to financial services, and has championed both financial and digital education through initiatives like the Octopus Academy.
Sam joined Octopus in 2013 in financial planning and corporate development, working on strategy and M&A.
Hugo Thorman, Director
Hugo founded Seccl alongside David. Formerly Hugo was Chief Executive of the Ascentric Wrap Platform which he launched in 2007 and grew to £9.7bn of assets. Before that he was Chairman of James Hay, launching the James Hay Platform in 2003.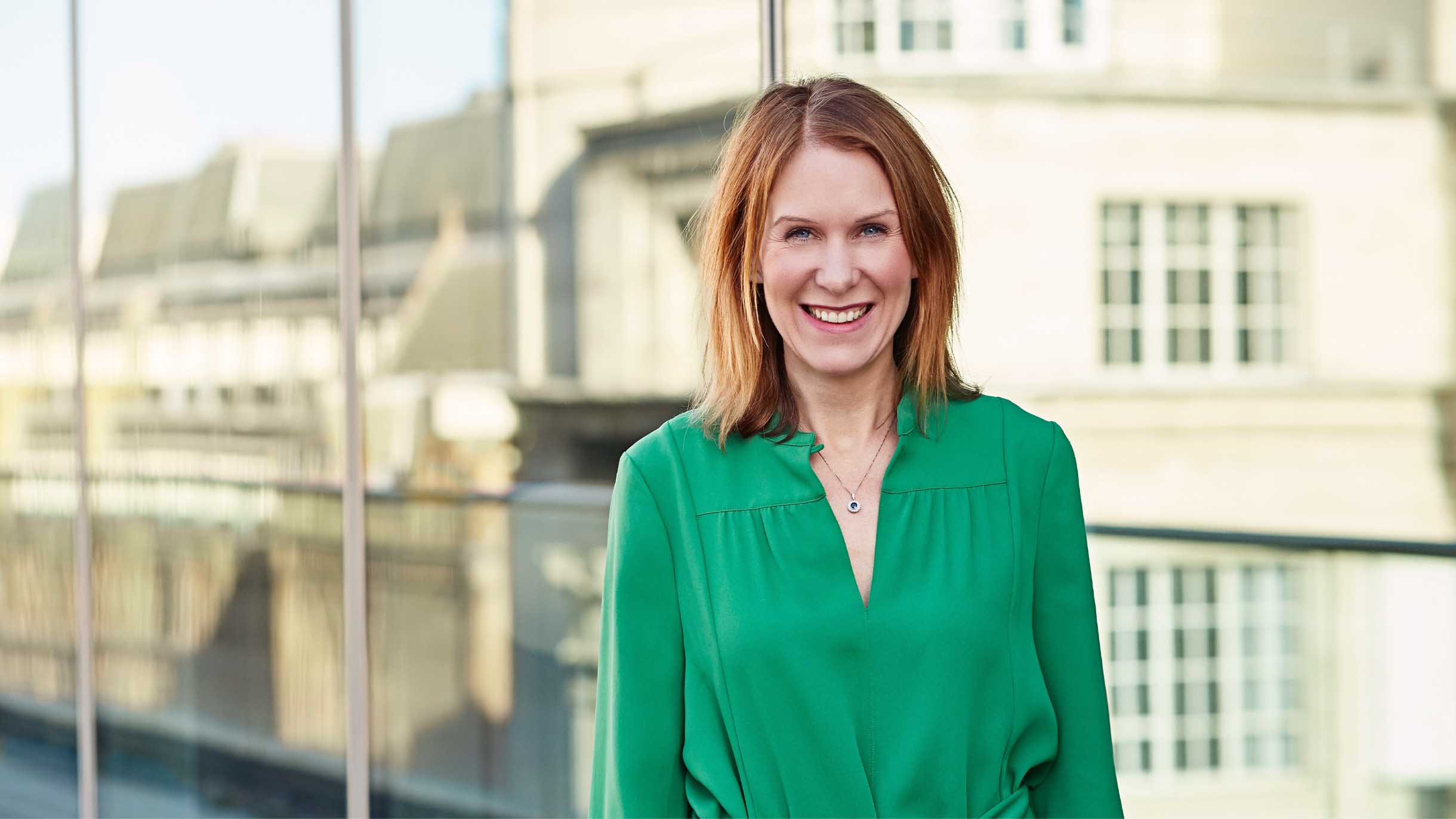 Ruth Handcock, Chair
Ruth is Chair of Seccl. As CEO of Octopus Investments, she focuses harnessing technology to improve access to financial services and financial advice.
So far in her career, Ruth has had fourteen jobs: newspaper deliverer, car washer, checkout operative, factory salad chopper (night shift), receptionist, lab technician, editor, consultant, government adviser, COO, finance director, chief of staff, head of customer and CEO.
Regulatory status
FCA permissions
Seccl Custody Limited is a firm authorised and regulated by the FCA, firm reference number 793200. The firm gained its regulatory permissions in July 2018.
Seccl Custody Limited has the following FCA permissions:
Arranging (bringing about) deals in investments
Making arrangements with a view to transactions in investments
Arranging safeguarding and administration of assets
Causing dematerialised instructions to be sent
Dealing in investments as agent
Establishing/operating/ winding up a personal pension scheme
Safeguarding and administration of assets (without arranging)
Dealing in investments as principal (Requirement - The firm is limited to dealing as a principal in investments under the scheme(s) it operates) July 2018.
Outsourced custody and client money
Seccl provides outsourced custody of all client assets via its non-trading, dormant nominee company, Digital Custody Nominees Limited.
All client money is held in a separate client money account with a PRA-regulated bank.
Financial Services Compensation Scheme Investors may be eligible to claim compensation from the Financial Services Compensation Scheme (FSCS), in the unlikely event that one of the banks Seccl uses to hold client money were to become insolvent.
The FSCS also offers protection for assets held in custody.
Compliance
Seccl's regulatory compliance is overseen by Thomasina McGuigan.
Where required, external support is provided by Thistle Initiatives.
Regulatory capital
As an FCA regulated, IFPRU 125k entity, Seccl Custody Limited must adhere to the capital adequacy regime. Seccl's capital position provides a suitable buffer over and above its regulatory requirement and the business plan is built to ensure this position holds through the Company's growth.
At an ultimate parent company level, the Octopus Group had approximately £258m of balance sheet equity as at April 2020.
Since its regulatory capital requirement is £35.38m, it holds 635% of that figure, with a capital excess of £222.94m.
Seccl's ICAAP currently prescribes that capital of £381k must be held to satisfy its regulatory requirements. As at 31st March 2021 Seccl Custody Limited held capital of £647k.
Systems, controls and data security
Systems & controls
Seccl Custody has been live for 2.5 years operating a custody service for retail clients.
As with the approach adopted to building technology, the service was created from scratch.
The proposition was defined specifically to allow it to scale with automation, and to minimise manual and paper-based processes which creates risk of human error.
To support this, a suite of controls have been built by reviewing the CASS regulations from first principles, specifically with the mindset of digital-led service offering.
Business continuity: serverless scalability & resilience
Our infrastructure is set up to be highly scalable and provide industry-leading resilience.
We are mainly serverless with Amazon Web Services, which we believe puts us in the strongest possible position for instantaneous scalability, as well as providing security and resilience.
Our serverless environment means we automatically scale up and down as demand is placed on the system. There is no provisioning of new hardware to cope with that.
Data security and financial crime
Our approach to data security provides, we believe, a world class level of security.
From a server perspective we use AWS and rely on the security built into that system.
We also create a specific instance of our database (Mongo DB) for each client to ensure no aggregation of data across multiple firms.
To ensure risks around data security and financial crime are mitigated, robust IT Security and AML policies have also been implemented.
Auditors
Moore Stephens conducted the audit of Seccl Technology Limited's and Seccl Custody Limited's financial statements for the period ended 31st December 2018 – as well as the CASS Audit for Seccl Custody, for the same period.
Audits were conducted in January 2019 and 2020 with no adverse findings.
Legal support
Seccl's legal counsel is provided by CMS.
Insurance
Seccl's Professional Indemnity insurance policy is provided by Markel, delivering cover of £5 million in the aggregate.
Accounts, wrappers and functionality
Accounts and wrappers
GIA
ISA
SIPP & SSAS
Offshore bonds
JISA (coming soon)
Onshore bonds (coming soon)
Investment operations
Funds
Equities
ETFs
DFMs
Investment Trusts
Model portfolios
Funds
Our ever-growing fund list spans nearly 900 funds from over 100 fund managers.
Additional funds from providers with whom we have an existing relationship can be quickly added, while we will always investigate ways of working with new fund managers upon request.
ISA
Seccl Custody Limited is an HMRC registered ISA Manager (reference number Z2000), authorised to operate a Stocks and Shares and Junior ISA (JISA).
SIPP
Our SIPP wrapper is made available through specialist third-party wrapper provider, Gaudi.
Gaudi is authorised and regulated by the FCA (reference number 488015), founded and run by a team of industry experts.
We chose to partner with Gaudi based on their proven reputation, readiness to integrate, and based on the belief that their pricing offers good value for money.
The costs for the SIPP are outlined in the associated key features document, and summarised on our pricing page.
Functionality
The functionality listed below is either available already, or being worked on with a view to being released soon.
Client and account administration
Digital recommendation tool
Set up sub-accounts or 'pots' at the individual client and wrapper level
Have D2C clients and advised clients on the same platform
Easily switch clients from D2C to advised
Keep some of a client's accounts execution only and the rest advised
Link or group different client accounts
Easy-to-use client portal
Notification of suspicious activity on accounts
Verify AML (at extra cost)
Payments, transfers & charging
Fixed fee, tiered and percentage adviser charging
Bank transfer and direct debit payment and withdrawals
Regular investments and withdrawals
Automated ISA, GIA & SIPP transfers
Grouped transactions (pay in and invest to models, sell down and withdraw, etc.)
£ and % withdrawals
JISA, including transfers from JISAs and Child Trust Funds
Natural income withdrawals
Trading and investment
Fractional trading of ETFs
Facilitate corporate actions
Operate advisory models at client level, without discretionary permissions
Non-GBP currency instruments
Automated bed & ISA
Auto-investments & withdrawals
DFM functionality
Create model portfolios
Rebalance portfolios
Assign clients to models and auto-invest
Reporting functionality
MIFID II required reporting
Consolidated Tax Certificates
Annual valuation reports
Quarterly Statements
Adviser fees
Capital gains tax calculation and reporting
Fully integrated illustration tool
Pricing
For full details of our pricing – and to use our interactive pricing calculator – head to our pricing page.
Key partners
Availability, access and support
User interfaces
Seccl has developed two intuitive, feature-rich user interfaces:
Professional UI…
Allowing advisers and their support staff to manage client portfolios, and discretionary investment managers to create and manage their models

Investor UI…
Allowing retail clients to view their investment portfolios
Availability
Except for any scheduled downtime, our intuitive, easy-to-use user interfaces are available all day, every day.
Our standard support hours are 8am to 6pm, Monday to Friday.
Hierarchy
Seccl's data architecture allows platform operators to establish a hierarchy of different account levels within their system.
Each level – or 'node', as we call it – can have their own branding, content, fee structure and users associated with it.
This allows platform operators to create different business streams, more easily distribute the platform to other firms create different business streams, or to segregate their own platform into different client banks.
Access permissions
Seccl's platform technology has been designed to allow for the creation of users with different levels of permissions and data access.
Creating new users, and managing their permissions, can be quickly and easily done from within the Professional UI.
Specialist onboarding
Choosing to operate your own platform is a big step.
While it can bring huge benefits for clients and businesses alike, there's no getting away from the significance of the change – not just to a firm's technology systems, but to its organisational structure and responsibilities, too.
To guide you through the journey, we pair all new clients with a dedicated account manager.
Working on a quasi-secondment basis, this individual (or team, depending on the complexity of the project) will be responsible for overseeing your transition – helping you to set up your technology and train your team.
Ongoing support
We will provide a rich bank of online FAQs, tutorials and user guides, to help new or returning users find their way around their platform.
And our client support staff are on hand to help tackle any issues that require more dedicated support.
We will aim to respond to all queries within two business hours – and resolve all live client issues within 24 hours.
In time, we will also publish our product development roadmap and allow customers to easily make and prioritise feature requests.
Putting you in control
Seccl's technology isn't designed to provide a simply 'white labelled' platform offering.
Instead, our solution empowers businesses to own and shape the customer journey from start to finish.
Significantly, this means that your clients sign terms and conditions with you, the platform operator, not us.
As a result, if in the unlikely event that you ever thought to replace our underyling services (though we hope you won't want to), you could do so without your clients' approval, and with much less disruption.
And, needless to say, we will never market to your clients.
We want to empower a new generation of forward-thinking financial planners, advisers and investment managers to give the next level of service to their clients.
By putting you in control of your own platform, our technology aims to do just that.