This document is designed for adviser firms, DFMs and platforms looking to use Seccl as their SIPP provider. It's not designed for end investors or customers.
A SIPP is a Self-Invested Personal Pension. Our SIPP will provide your end customers with a simple, tax-efficient way to invest their savings ready for retirement.
Introducing Seccl
We're a custodian and investment technology company that powers firms at the cutting edge of financial advice and wealthtech.
Operating across the entire wealth management landscape, we support all kinds of firms – new investment start-ups, established advice firms, PE-backed financial adviser consolidators and large, established fintech platforms, to name a few.
After launching to the market in 2018, just a year later in 2019 we were acquired by the £11 billion Octopus Group, home to award-winning companies including Octopus Energy and Octopus Ventures.
Our services are designed for:
Adviser platforms
Large financial adviser consolidators and networks
Small to medium-sized advice or DFM businesses
New to market investment fintechs
Large fintechs with millions of customers
We're already powering some of the most innovative and fast-growing firms around today including…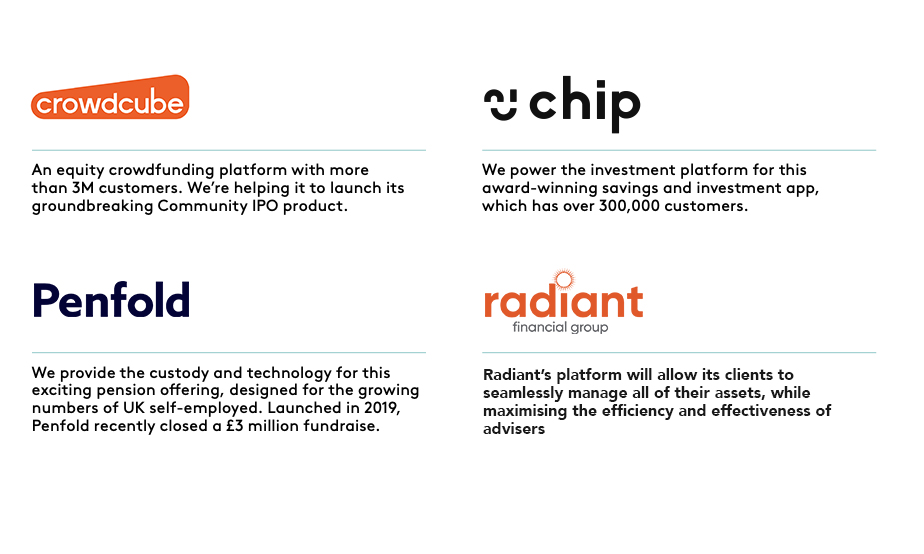 What do we do?
Our technology and services
We provide the key building blocks for investing and financial advice, through affordable custody and investment technology, and code-free, paperless professional and client portals.
Our scalable investment infrastructure helps financial advice or investment
management firms to run their own adviser platform, and new or established
technology companies to quickly launch their own investment proposition.
Custody and investment infrastructure
Affordable custody
Trading and settlement of instruments
Feature-rich portfolio management
Tax wrappers like ISA, SIPP & SSAS
Professional and client portals
A code-free platform solution
Paperless, fast and friction-free
Customise to your own brand
Tap into ready-made integrations
Affordable custody
An API-first approach to custody and client money
Seccl is an FCA-regulated custodian. With the help of our own proprietary custody and trading system, we safeguard the cash and assets of thousands of investors around the UK, on behalf of a growing number of firms, large and small.
Our UK custody service can look after most typical client assets, including funds and exchange traded instruments (ETIs), and is affordably priced at 10bps, tiering down for larger portfolio sizes.
Simple trading and settlement
Plug-and-play access to the financial markets
Our purpose-built custody and trading system integrates directly with key third-party dealing and execution partners, to route investment orders to the market.
Exchange traded instruments
We support the trading and settling of exchange traded instruments including
investment trusts, direct equities and ETFs.
Extensive fund coverage
We offer nearly 900 funds from over 100 fund managers – and counting.
Feature rich investment tech
Everything you need to run your adviser or D2C investment platform
Fully paperless
Digital, straight-through processing, without a single piece of paper or wet signature required at any stage of the investment or advice journey.
Flexible account structures
D2C and advised clients on the same platform? No problem. You can even let your advised clients set up execution-only sub-accounts or 'pots', if you like.
Modern payment methods
As well as BACS and Direct Debits, we support instant payments via Open Banking, so your clients' money can get to market faster.
Transparent asset transfers
Our transfers workbench shows the status of your clients' asset transfers, so you can stay one step ahead.
Easy-to-use model portfolios
Take the headache out of MPS, with our easy-to-use system for creating and maintaining model portfolios.
Integrated client illustrations
Our custom-built tool makes it easier than ever to create compliant, client facing key features illustrations.
Optional wrapper administration
A growing range of investmentproducts and wrappers
As well as being an FCA-regulated custodian, we're an HMRC-registered ISA and SIPP Manager. We support integrations with a host of other product providers and wrapper administrators from across the investment landscape.
Professionl and client portals
A code-free way to run your own adviser platform
With our client and adviser portals, you can launch a fully paperless platform without a single engineer.
Seccl isn't a platform in a traditional sense. Instead, our technology helps financial advisers and DFMs to operate their own. This means you'll have additional responsibilities but can take full control of the platform experience – and create new revenue too, in the form of your new platform fee.
If you have your own tech team, you can plug straight into our custody and investment infrastructure via our API. But if you don't, our ready-made client and professional portals will help you launch your very own platform without a single line of code.
From account creation to illustration, you can save time and reduce re-keying with our simple, clutter-free interface – and stay on-brand by customising your platform.
Our technology also integrates with existing CRMs to help you become faster and more efficient than ever before.
At a glance
Our range of flexible micro-services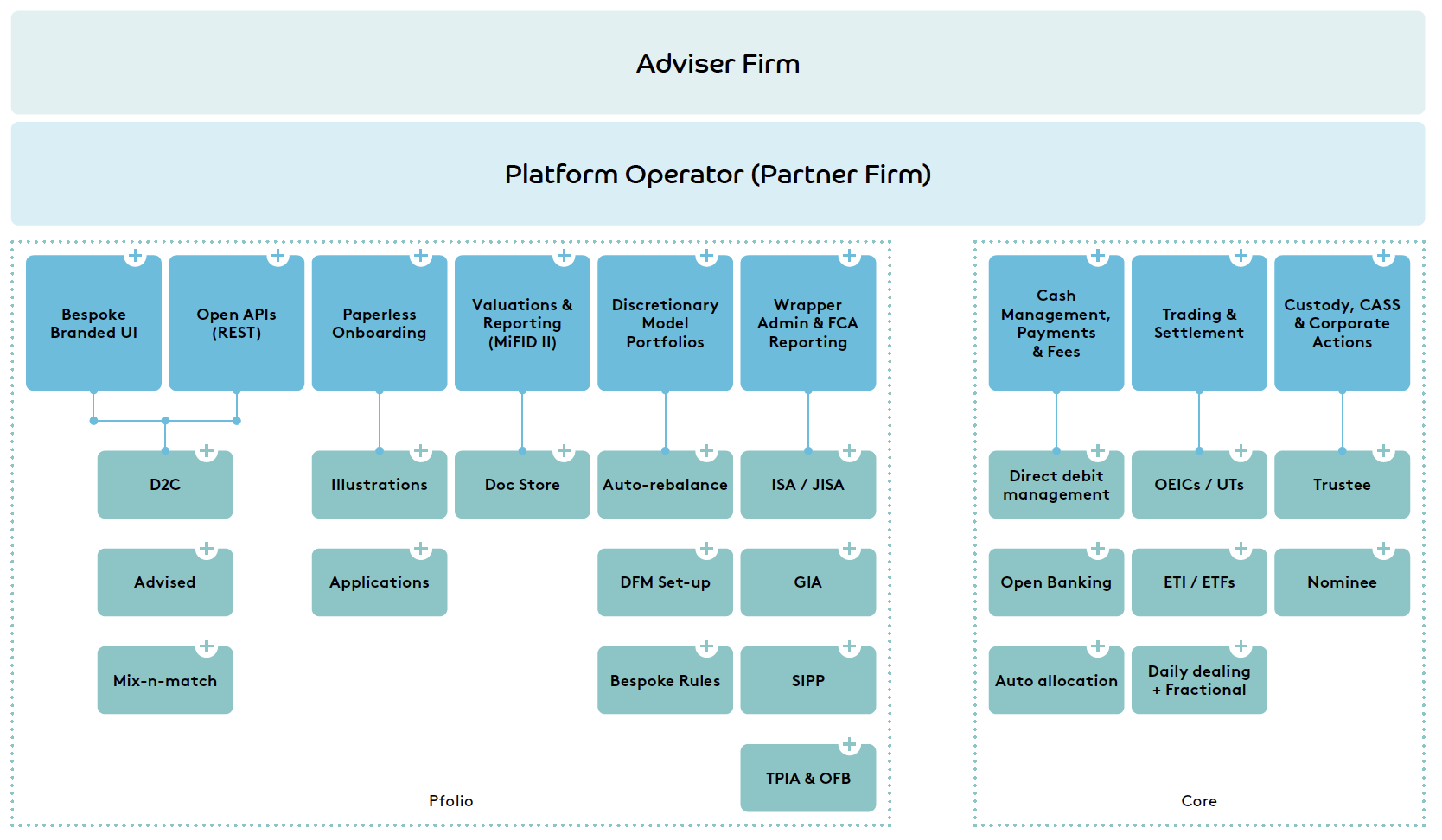 The Seccl SIPP: an overview
Tax wrappers have a crucial role to play in sound financial planning. That means affordable and easy-to-use wrapper products are a fundamental part of the infrastructure of investments and advice.
It's why we're an HMRC-registered ISA and SIPP Manager, offering wrapper administration as a core part of our service proposition, alongside our regulated custody and investment technology.
The Seccl SIPP is the latest and arguably most important addition to our range of product wrappers, offering what we think is a market-leading level of scalability and efficiency.
A custom built SIPP
Cutting-edge systems, fit for the future
Why did we choose to build our own SIPP? Well, for the simple reason that traditional SIPP offerings just aren't fit for purpose.
Many traditional pension products are either partially or fully paper-based. They're inflexible and clunky to use, built on old 'legacy' tech, and are administered through 'off-the-shelf', third-party systems that are slow, difficult and expensive to change.
We wanted to start again with a blank canvas. The result? A market-leading SIPP that's fully digital, inherently flexible and infinitely scalable – the right foundation to support the ever-changing needs of advisers and their customers.
Meet the future
Cutting-edge systems, fit for the future
In its initial launch stage, the Seccl SIPP provides an intuitive and easy-to use online application journey, capturing…
The client's personal details, including their expression of wishes for death benefits
All contributions and transfers
Full range of investment options
The client declaration – including a summary of the information they have provided, and a means to accept the terms and conditions and key features
It also provides for ample client flexibility, with functionality to allow end investors to increase, reduce or pause contributions at any time, and receive both single and regular contributions on any working day.
The Seccl SIPP can support clients through accumulation and decumulation (though the latter is currently only available to clients of financial advisers).
As with our accumulation functionality, our decumulation technology has been designed with flexibility at its core, allowing the firms that we power to make income payments to the client quickly and easily.
And throughout the entire pension journey – from paying in, to paying out – the whole process will be entirely automated. Not a piece of paper or manual process in sight.
Seccl's pension solution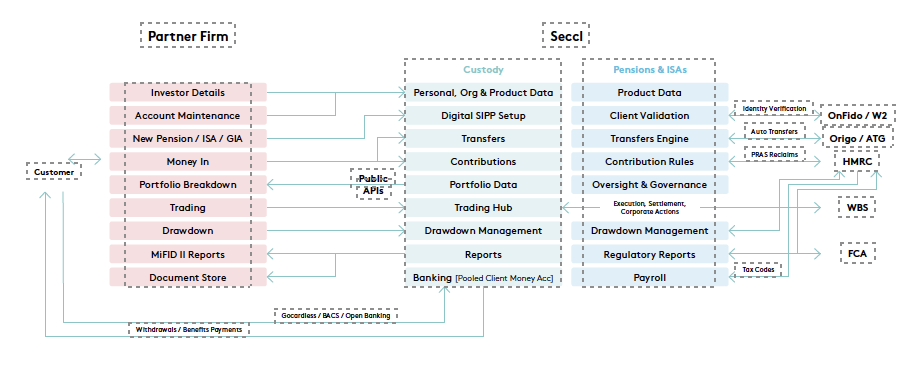 What makes us different?
In short – our technology. Our paper-free investment technology is built entirely on public APIs, allowing for easy integration and rapid innovation.
The transformative change that we've seen in other areas of our lives – think Uber, Deliveroo, online banking platforms and the endless stream of new and innovative apps for just about everything – has emerged thanks to the magic of APIs; bits of code that allow one set of software to easily talk to another.
Cloud-hosted API systems are already starting to improve the platform experience and make it more affordable by streamlining processes with automated, easy-to-maintain software. And now we're unleashing their power to transform the pension experience, too.
Scalable Architecture
A single, cloud-hosted code-base
At Seccl, we have embraced a 'cloud-first' technology approach, building a central platform that can be used securely by all our clients.
This secure cloud-based system can be easily adapted to fix issues and keep up with changing regulations and client requirements.
We also manage a single codebase via Amazon Web Services, rather than a traditional multi-branch model deployed by some technology firms in the platform sector.
This kind of technology eliminates the need for costly and time-consuming re-coding or upgrades of system instances, as changes are made centrally and rolled out automatically. It's also independent of the hardware costs and upgrade cycles associated with in-house technology.

Taking control
Designing a SIPP that's right for you
By administering and owning the SIPP, Seccl has greater control over the features and functionality you can integrate with, minimising touch points and communications along the way.
Our technology supports advisers, wealth management and fintech firms to become regulated platform partners, so they can take to market the most compelling and competitive solution available. Each partner implementation is unique and designed around the partner's target market.
In a nutshell
Why Seccl?
Genuinely API first
Our API isn't an afterthought – it's the driver of all of our technology. Take a look at our API reference and quickstart guides to see it first hand.
Fully paperless
Our efficient, API-first technology stack means we can provide a completely online, paperless and affordable SIPP solution.
One efficient code-base
Unlike traditional providers, who maintain separate instances for each client, we have just one. Every client gets every update, automatically.
We ship features fast
Forget never-ending release cycles: our engineering team deploys pretty much every day, and we build whole new features in weeks, not years.
Free from legacy tech
We're not lumbered with old and clunky legacy tech; we've rebuilt investment technology from the ground up using publicly documented APIs.
Scalable and resilient
Our cloud-based systems architecture, built on AWS, means we can scale incredibly quickly and resiliently. Our technology is future-proof.
Expertise and dedication
Our pensions team has a combined 30+ years of direct pensions experience. We like to work in partnership, to design, implement and maintain a SIPP solution that's right for you.
Backed by Octopus
In 2019 we were acquired by Octopus, the £11bn+ group of companies that includes Octopus Investments, Octopus Energy and Octopus Ventures.
Diving into the detail
Legal structure
The Seccl Personal Pension Scheme has been established under the trust deed and rules. This scheme has been designed to enable partner firms to white-label the product under their own branding.
Scheme establisher, operator and administrator
Seccl Custody Limited
Scheme Trustee
Digital Pension Trustees Limited
HMRC Registration date
3rd February 2022
Pension Scheme Tax Reference
20005619RK
Regulatory structure
Establishment and operation of a SIPP is a regulated activity for which specific permissions are required. SIPPs have been the focus of significant regulatory scrutiny in recent years, and the FCA have made clear that they expect SIPP operators to meet particular requirements in a number of areas.
Additionally, an operator must remain aware of, and comply with, complex tax rules.
The regulatory structure of Seccl Personal Pension is as follows:
FCA
Products established under the scheme will be provided by Seccl Custody Limited, a firm authorised and regulated by the FCA. Appropriate returns will be made to FCA in respect of the product, including product sales data.
The Pension Regulator
Seccl Personal Pension is in the process of being registered.
HMRC
As a registered pension scheme, appropriate returns will be made including tax reclaims, event reports and operation of PAYE on benefit payments.
Eligibility
To open a Seccl SIPP, applicants must be over 18 and resident in the UK for tax purposes, or have existing UK pension savings. The application process is completed online.
There is no maximum age, however there is no tax relief for clients aged 75 or older. Grouped arrangements are not permitted, and auto-enrolment is not allowed under relevant legislation.
Our drawdown functionality is currently only available to clients of financial advisers.
Product charges
Partner firms will be charged the below fees. All fees are subject to VAT.
SIPP charge
0.05% Min £1 per month / Max of £4 per month
SIPP drawdown
Additional 0.05% per annum with the maximum
increasing to £10 per month (once launched)
Seccl will issue a monthly invoice to each partner firm. Partner firms can choose to pass pension fees directly to the end investor or to charge a different fee to investors subject to approval from Seccl.
Plan anniversary
The anniversary date for all new clients joining the scheme will be 12 months from receipt and acceptance of the first payment into the plan.
Regular statements
The following statements will be issued annually, with respect of each plan, and added to the client's online document store:
Portfolio breakdown
Quarterly valuations
Investment growth
Pension savings statements / annual statements
Schedule of contributions
Schedule of transfers
Statutory money purchase illustration or drawdown review illustration (if applicable)
Disclosure of charges, including adviser charges
Regulatory requirements
Our SIPP has flexible reporting requirements to support structured documented processes in line with PROD and MIFID II.
Comparing the options
There are pros and cons to each option, and what's right for you will depend on the size and scope of your business – as well as how quickly you want to get to market.
The Seccl SIPP: how it compares
Seccl will take each partner firm through a design and development process, in which the pension product will be defined, validated and built…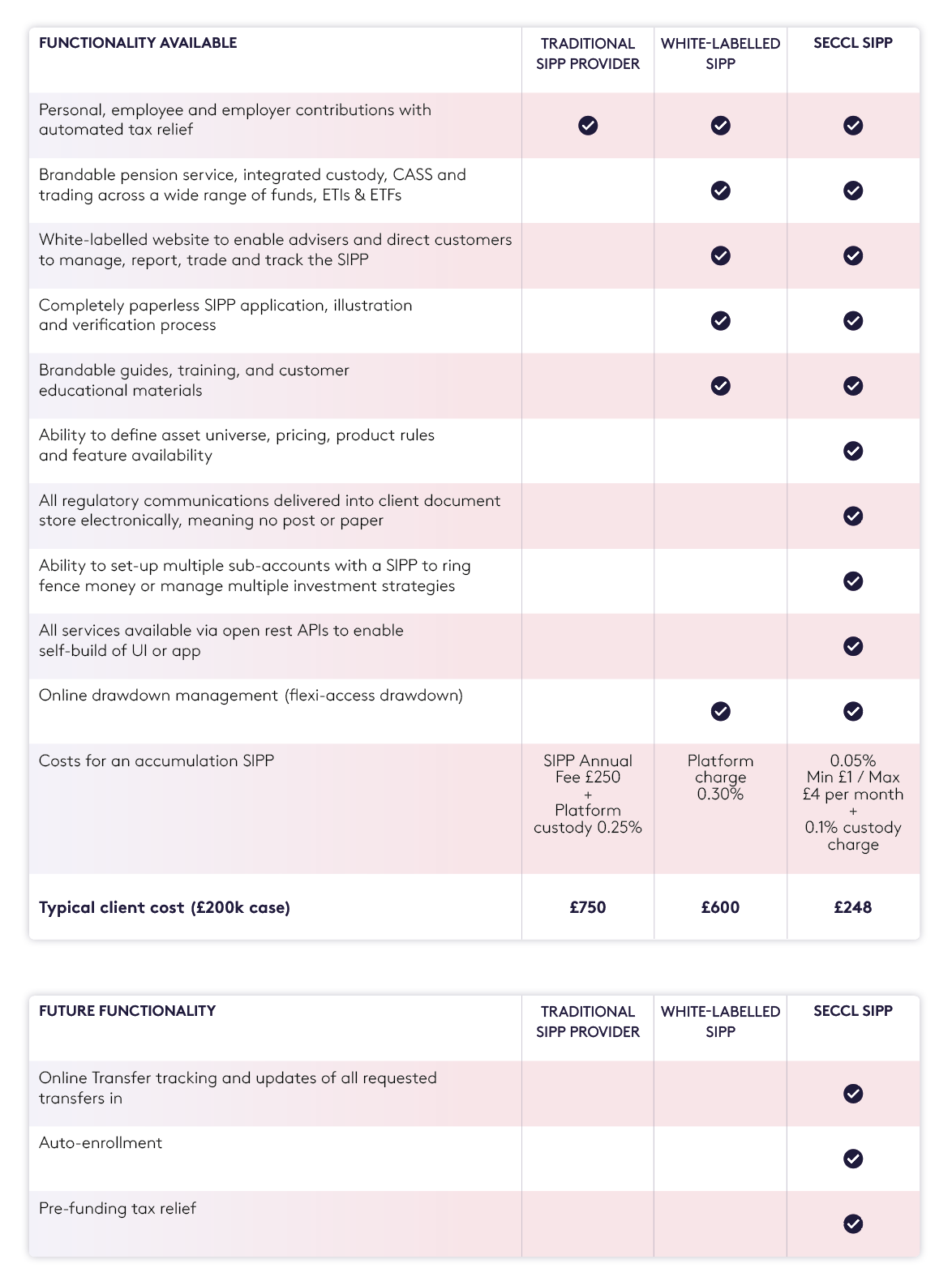 Permitted and non-permitted investments
We will only permit investments that fall within the FCA's definition of a "standard" investment, i.e., an investment that is realisable within 30 days and can be readily and accurately valued.
Legislation may also affect particular asset types and render them unacceptable.
Permitted investments
Investments we allow within the pension scheme are as follows:
Equities
Must be listed on the HMRC-recognised stock exchange or admitted to trading on a recognised European Economic Area (EEA) stock exchange.
Exchange traded Funds (ETFs)
Must be listed on the HMRC-recognised stock exchange or admitted to trading on a recognised EEA stock exchange, EEA Domiciled, or within the FCA temporary permissions regime, UCITS and recognised on the FCA register.
Investment trusts
Must be listed on a recognised HMRC stock exchange list or admitted to trading on a recognised EEA stock exchange.
Funds
Must be recognised or approved on the FCA register. If EEA Domiciled, must fall under the FCA temporary permissions regime. Subscription/redemption payments must be made in GBP
Non-permitted investments
Investments we do not allow within the pension scheme are as follows:
Fixed-income securities of all types, including gilts and government bonds, corporate bonds, convertible bonds, PIBS and other loan stock.
Structured products (including both plan and deposit products)
Commercial property
Options and other derivative products
Fixed-term bank accounts with terms of more than 30 days
Unlisted equities
Unlisted fixed-income securities
Limited partnerships
Unauthorised unit trusts
Trust-based property syndicates
Hedge funds
Offshore bonds
Additional information
Terms and conditions and key features
While we hope this introduction provides a useful summary of the Seccl SIPP,
do take a read of our full terms and conditions and key features document.
Compensation
The Seccl SIPP scheme is covered by the Financial Services Compensation Scheme (FSCS).
This means that if we were unable to meet our obligations, and we received a valid claim against us in respect of the operation of, or winding-up of the Seccl Personal Pension Scheme, then the client may be covered for 100% of the first £85,000 of their investment
If our or the trustee's external banking partner became insolvent, then the client may be covered under the FSCS for 100% of the first £85,000 of their money on deposit with that bank.