We were very proud to feature in The Sunday Times this weekend, supporting Raconteur's Wealth & Asset Management 2021 report.
It delves into some of the biggest and most pertinent issues in our sector, such as the recent burst of inflation, ESG investing, cryptocurrency and the ongoing role of technology in transforming financial advice and investment management for good.
It also featured a Q&A with yours truly – in which I spoke about the important role of APIs, and how firms can – and must – invest in their technology to ensure they're on the right side of change.
If you missed this week's paper and you would like to catch up, you can read the report here.
What's included in the report?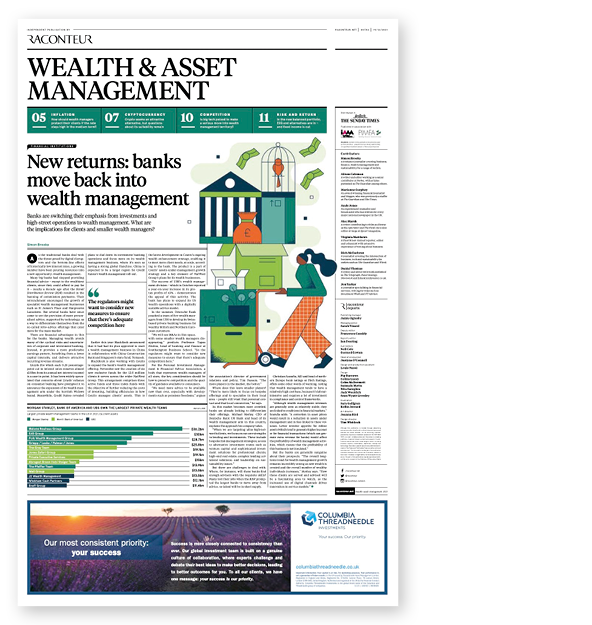 The report comes at a time when many of us are reflecting on the year's themes and trends, as well as looking ahead to 2022 and beyond. What does the future hold for social impact investing? How can wealth managers continue to balance risk and returns for their clients in uncertain times? And how best can we facilitate the much-needed digital transformation in the wealth management and advice industry?
The report covers all of this and more, providing analysis on everything from the best and worst performing stocks of 2021, to managing the risk of lasting inflation – which is set to hit 5% next spring. It also takes a serious look at the problems many wealth managers face when working remotely, and the challenges we may still have to navigate going forward.
Right now, there is a strong focus on sustainability, with clients from all corners of wealth and asset management becoming more aware of the impact of their investments on the environment and wider society. This raises questions that the report endeavors to address – such as can cryptocurrencies ever sit comfortably in an ESG-focused portfolio? And how can the industry cater to a stream of young investors, many of whom are (quite rightly) impatient for change?
How does Seccl fit into all this?
I don't think it's an exaggeration to say that technology is the answer to many of the challenges we face in wealth management today – and that the margin between success and failure in the market will be defined by those who embrace change, and those who don't.
I talk more about this in my Q&A. I argue that while technology has dramatically raised client expectations, it's also lowered the barriers to innovation – and that even small firms can find themselves on the right side of the future by making sound investments in their technology. To find out more, make sure you get your hands on the full report – as well as our Q&A – here.
If you'd like to find out more about what we do here at Seccl, or to chat through any of the themes from the Wealth & Asset Management report, feel free to get in touch – I'm always up for chat.
---