We caught up with Mat Benfield (six months in to his role at Seccl) to learn more about how he got to where he is – and what drew him to a life as an Engineering Manager…
Hey Mat! Tell us, what were you doing before you joined Seccl?
I've been in and around tech for about 18 years or so – it all started when I produced a terrible website in a Business Studies module at college. I took the skills I learned there onto university and was often the go-to person for any of the web development throughout the course!
It was SQL (structured query language – a pretty standard programming language for those not in the know) that initially piqued my interest, and this led to my first foray into the workforce when I secured a job as a Data Analyst in 2006 – think Oracle databases, Excel workbooks and checking and assuring data. This role was in the HE sector and I spent the next 15 years there before joining Seccl.
Around 2009, my love of football and web development came together as I produced a football statistics website built on a heavily customised WordPress site, using SQL, PHP and some cron jobs.
I began Tweeting data about teams, referees, grounds, competitions and produced some alternative league tables all in my spare time. I was able to grow my following to 180,000, and even had some of my data published in daily newspapers and appeared on some podcasts. The highlight was getting Retweets from my club. I was able to use this on my CV/portfolio as a way into a Web Developer role in the company.
After a while, I transitioned over to the Software Development Department and into a new team. We soon adopted an agile mindset, and I spent spells as a Scrum Master and Product Owner, before eventually progressing into a Lead role and moving up to Head of Software Development. Working closely with engineers made me want to move on from the technical side of things into the people track and become a bit more hands-off in terms of actual coding.
What was it that excited you about Seccl?
I had become aware of my desire to move quickly and embrace change in a way I couldn't get in my current role. I had begun cycling during lockdown and helped me realise that, in my professional life, I was working in the wrong gear and lacking traction. I had also begun my investment journey a year or so before and had become fascinated by wealth management.
Seccl was a perfect fit. They are constantly evolving and open to challenge the way things are done. Here, I have the freedom and ability to change at a pace that's really refreshing. I would say I'm comfortable – but I know that it is the comfortably uncomfortable space where growth happens! Despite changing companies during lockdown, I've been able to meet my new colleagues and find a good balance of remote and onsite working, which has been ideal for me and my family.
What does a typical day as an Engineering Manager look like?
I'm responsible for building, nurturing and supporting our team of engineers. I work with a tribe made up from a number of squads. Collectively, our job is to develop the products and services that allow Seccl to fulfil its mission of rebuilding the infrastructure of investments and advice.
Day-to-day, my job involves working closely with cross-functional partners to develop a combined product and engineering strategy, developing a culture and framework that allows our engineers to develop and grow, as well as plenty of recruitment as we look to grow out our capabilities and product offering.
I've also been looking at our processes, technology choices – and of course the security and quality that are baked into everything we do. Operational efficiency is something we're always striving for at Seccl. There is nothing worse than doing efficiently what should not be done at all.
To put it simply, we spend time thinking about the problems we need to solve and the best way to solve them.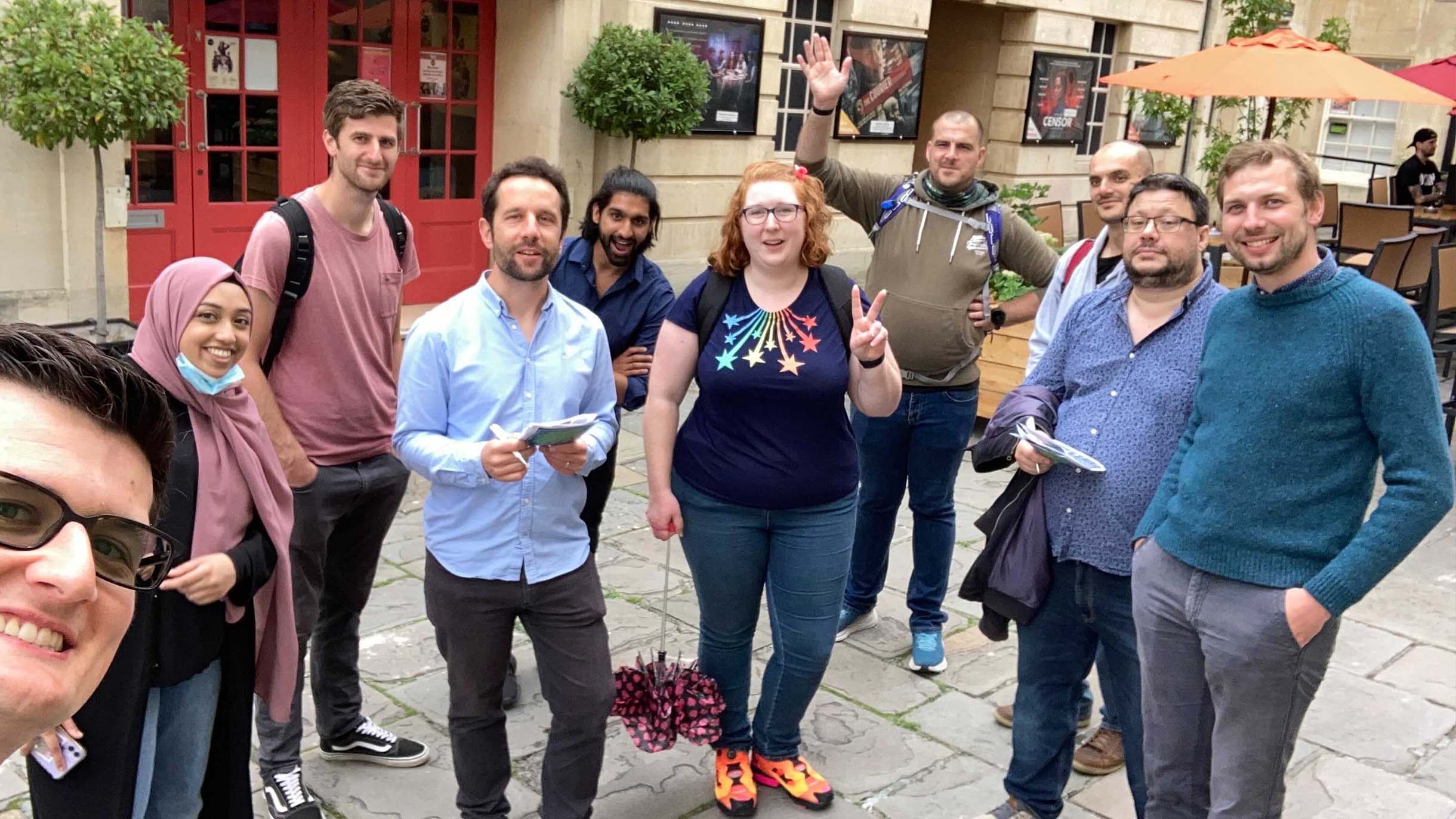 So, what do you do outside of work?
Apart from spending quality time with my lovely wife and daughter (who has just started school), I watch a lot of football. I mainly watch women's games, as I'm super inspired by their growth and how the coach empowers them, drives them forward and is relentless in the pursuit of success… it feels a lot like engineering!
Pre-pandemic, I spent most of my free time doing exercise – mainly running. I joined a running club (and rebuilt their website as you do) and was a regular at parkrun on a Saturday morning, which involved being a volunteer coordinator and setting up.
In 2019, I ran 1200 miles for Acorns Hospice (a local children's charity), which included a rather epic stretch in the month of October in which I ran in Cheltenham, Stroud, Birmingham (the half marathons) and took part in The Great South Run in Portsmouth.
What's a fun fact about you?
I had my first coffee at 38…
You've got a ton of engineering experience. What advice do you have for those earlier in their career?
Experiment
I love the philosophy of hypothesis-based development. Those who remember GCSE Science will understand this approach. Hypothesis → Method → Results → Conclusion. Repeat.
At school, I was taught to only change one variable at a time when experimenting. It's hard to stick to this philosophy in the real world, but I do still think it's a good piece of advice.
Don't be afraid to move around
I didn't change companies for a long time, but I did change roles and was constantly thinking about what I could do next. You don't have to move to a different company in order to embrace change, but I do think that you should try to mix up your engineering career as much as possible by working in different departments. You can continue to raise the bar by constantly evolving and growing.
My advice would be not to move jobs too much in case if makes hiring managers nervous they're going to lose you – but if you're deeply unhappy in your company or you've been there for a couple of years, don't be afraid to move onto bigger and better opportunities.
Communicate well
Communication is perhaps our most powerful tool, yet it's something so many people struggle with. It often gets talked about as a soft skill, which makes people think communication should be easy – but this isn't the case.
In engineering, as in life really, communication takes constant work – but it's vital when you're working as part of a team. I recently read that around 85% of people suffer from imposter syndrome, and I think this is a real blocker to good communication. Once you realise nobody can possibly know everything and everyone is just doing their best to resolve a problem, you can work together much more easily.
When it comes to the hiring process, it's important to communicate your weaknesses, and see them as opportunities to learn, rather than giving a generic answer or not admitting to having any (we've all got weaknesses!).
Embrace list-making
I'm forever making lists, and I find them really useful in terms of organising my mind and laying out the next steps in any given challenge.
When you work in a fast-changing industry, it's important to lay out your tasks and learn how to prioritise. Often, lists change throughout the course of a day or week – but that's okay. Planning is important, but it's not as important as being able to embrace change and get comfortable with a bit of ambiguity.
Interested in joining our engineering team? Take a look at our open roles. You can also find out more about what it's like to work at Seccl on our Glassdoor page, our blog, and by following us on Instagram.
---